Jump Over Left Menu
Engineering Board Report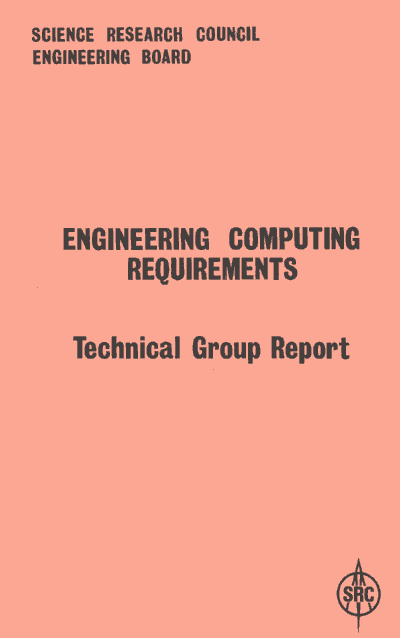 From 1970 onwards, the Engineering Board (EB) of the Science Research Council (SRC) received requests from engineering departments in universities for expensive, often single user, interactive facilities for individual research projects.
The demand was clearly going to be much greater than the funds available. The Engineering Board strongly supported the establishment of a centre where different groups could meet to discuss the computational needs in Engineering and agree on methods of attack and production of standard programs. The Board was also emphatic about the need for interactive facilities, not just for CAD and AI, but also for exploratory work broadly in the engineering field. EB, therefore, set up a Working Group in June 1973 to establish the needs. At the time, most university computing was housed in the university's computer centre with a primary responsibility towards teaching. The computer capacity at Rutherford and Daresbury Laboratories providing batch processing facilities was comparable to the power available to the universities in total.
The Working Group reported in December 1974 and agreed that there was a significant demand for interactive facilities for engineering research and that the current facilities provided by SRC and university computer centres was not aimed at providing an interactive service for demanding engineering applications. The Working Group recommended that a centre be set up at an SRC establishment to provide interactive facilities for engineers.
To flesh out what the requirements were and establish a five-year plan, a Technical Group under Professor Rosenbrock of UMIST was set up in March 1975. Geoff Manning, the Deputy Director of the Rutherford Laboratory was a member of the Technical Group and John Burren (Computing and Automation Division, Rutherford Laboratory), Jim Hailstone (Atlas Computer Laboratory) and Basil Zacharov (Daresbury Laboratory) gave technical support. Paul Bryant (Atlas Computer Laboratory) acted as Secretary to the Group. The Report was completed by the end of 1975 by which time the Rutherford and Atlas Laboratories had merged.
At the time the Report was being compiled, there was still on-going discussion with the CAD Centre at Cambridge and DTI concerning the feasibility of setting up a National Computer Centre at Chilton as the future for the Atlas Computer Laboratory.