Jump Over Left Menu
Professor Judah Schwartz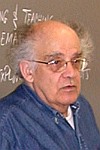 Judah Schwartz came to the Atlas Laboratory for two extended periods to work with the animation group and also to interact with the Rutherford physicists. He rented a house in Sutton Courtney for the longer of the two stays. For the first period, he arrived on June 10, 1971, which was 6 weeks before the first UK Computer Animation Symposium that was held at the Atlas Laboratory on 30 July 1971. One of his best computer animations was Moving Charges.
Judah was at MIT when we visited the Atlas Laboratory. He is now a Harvard University physics professor. Judah studies learning and the use of technology to make abstract ideas much more accessible. He is recognized as a leader in the cognitive science education research field. Judah divided classroom instruction methods into main camps: those who teach skills and those who aim for understanding. You only have to see one of Judah's many computer animations to know that he is firmly in the second camp.
Judah Schwartz developed a new algebra curriculum which represented functions graphically as well as symbolically. Teachers reported understanding quite a lot about algebra that they had never grasped before!
The Geometric Supposer was a set of microcomputer software tools developed by Judah and Michal Yerushalmy in the late 1980s to teach high school geometry through a guided-inquiry approach. The Supposer allowed the user to make geometric constructions of the sort created with a compass and straightedge. The software included a facility to measure angles, areas, and line segments and to perform arithmetic operations on these numerical data. The software remembered a construction as a procedure and allowed the user to repeat the construction on another geometric figure of the same sort. Students engaged in inductive thinking and had a chance to reinvent definitions and theorems and to explore new and interesting and complex geometric ideas.
Another project was the Newtonian Sandbox which emphasized graphical representations of common mechanical systems and presented an accurate image for the Mind's eye. You could explore a wide range of physical models that generate the motion of a point mass in one and two dimensions. You could study the detail and nuance of this motion in a variety of ways: trajectories in space, plots of horizontal and vertical positions and velocities, radial and angular positions and velocities, and phase plots in Cartesian and polar coordinates. Vector directions and magnitudes could also be displayed, and data tabulation was possible.
Judah started at MITRE with projects like A Ride on Einstein's Relativistic Train and has continued at the cutting edge of instructional technology.
Bob Hopgood met Judah initially at a UAIDE Conference and also came into contact when the Laboratory was trying to get a pin-registered camera for the SD4020. It was out of these contacts that the visits to Atlas arose.