Jump Over Left Menu
Configuration
The 360/195 could be purchased with 1, 2 or 4 Mbytes of main store. Most systems were purchased with 2 Mbytes due to the high cost of memory. Rutherford paid nearly £400K for the third megabyte of memory and even more for the fourth (and it was second-hand!).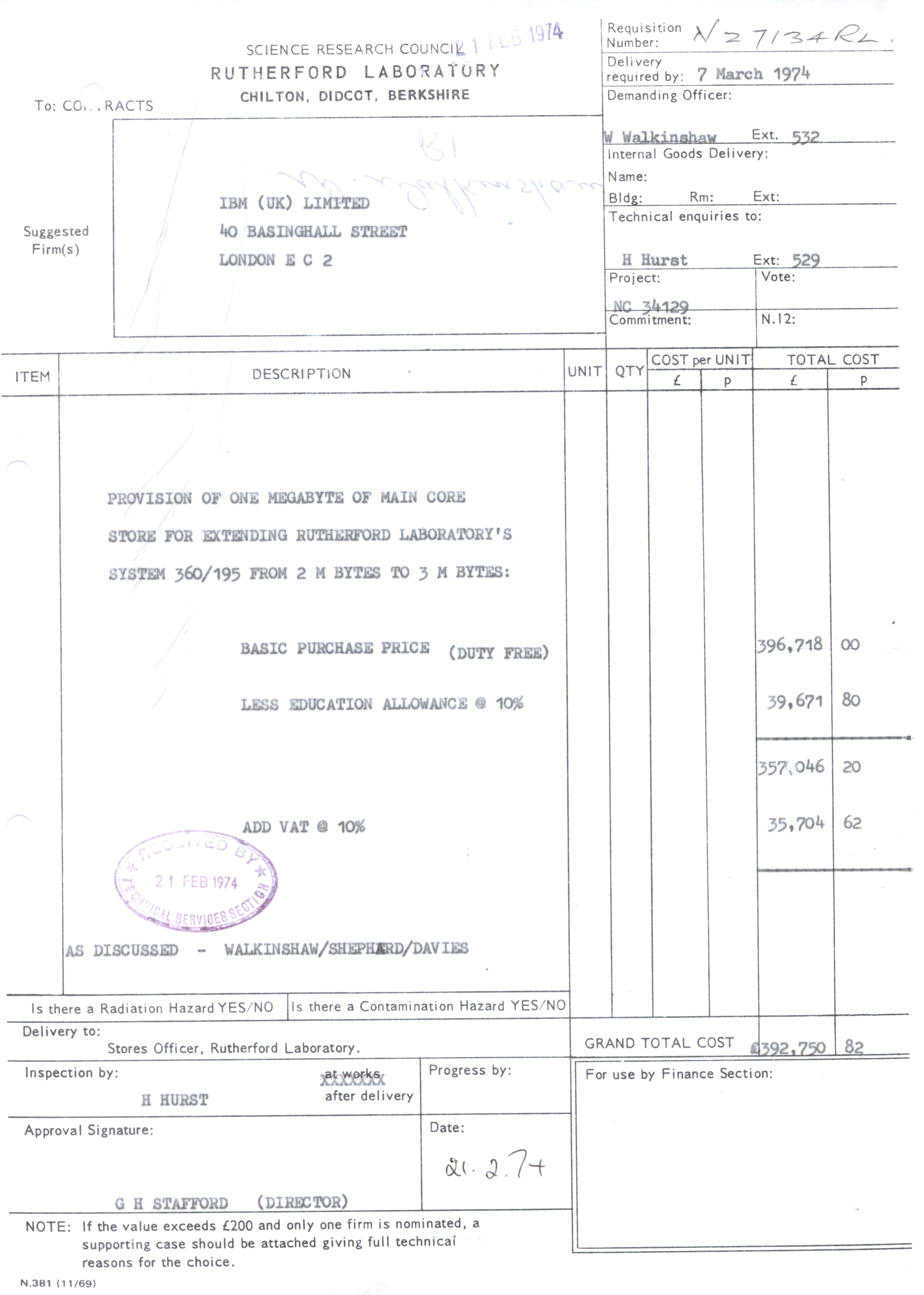 A typical configuration would be a single CPU with 2 Mbyte core storage, an operator's console with a cathode-ray tube (CRT) display for diagnostics and operator control, three 2314 direct access storage facilities, two 2301 drum storage units, fourteen 2420 magnetic tape units, and several card read-punches and printers. Up to six selector channels and one multiplexer channel could be attached to a 360/195.
Purchase prices were between $7M and $13M depending on the configuration.
The Rutherford 360/195 inherited most of the peripherals from the 360/75. The fastest device was the 11 Mbyte IBM 2305 fixed head file. It provided fast access at a rate of 3 Mbytes/sec to frequently used system files. The read/write heads were fixed in position over each track which eliminated seek time. When the drive had completed a read or write, it disconnected allowing the channel to be used in accessing a different device during the latency period.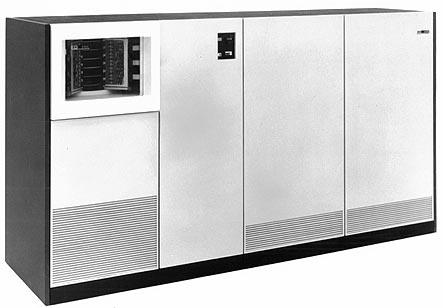 http://www-03.ibm.com/ibm/history/exhibits/storage/storage_2305.html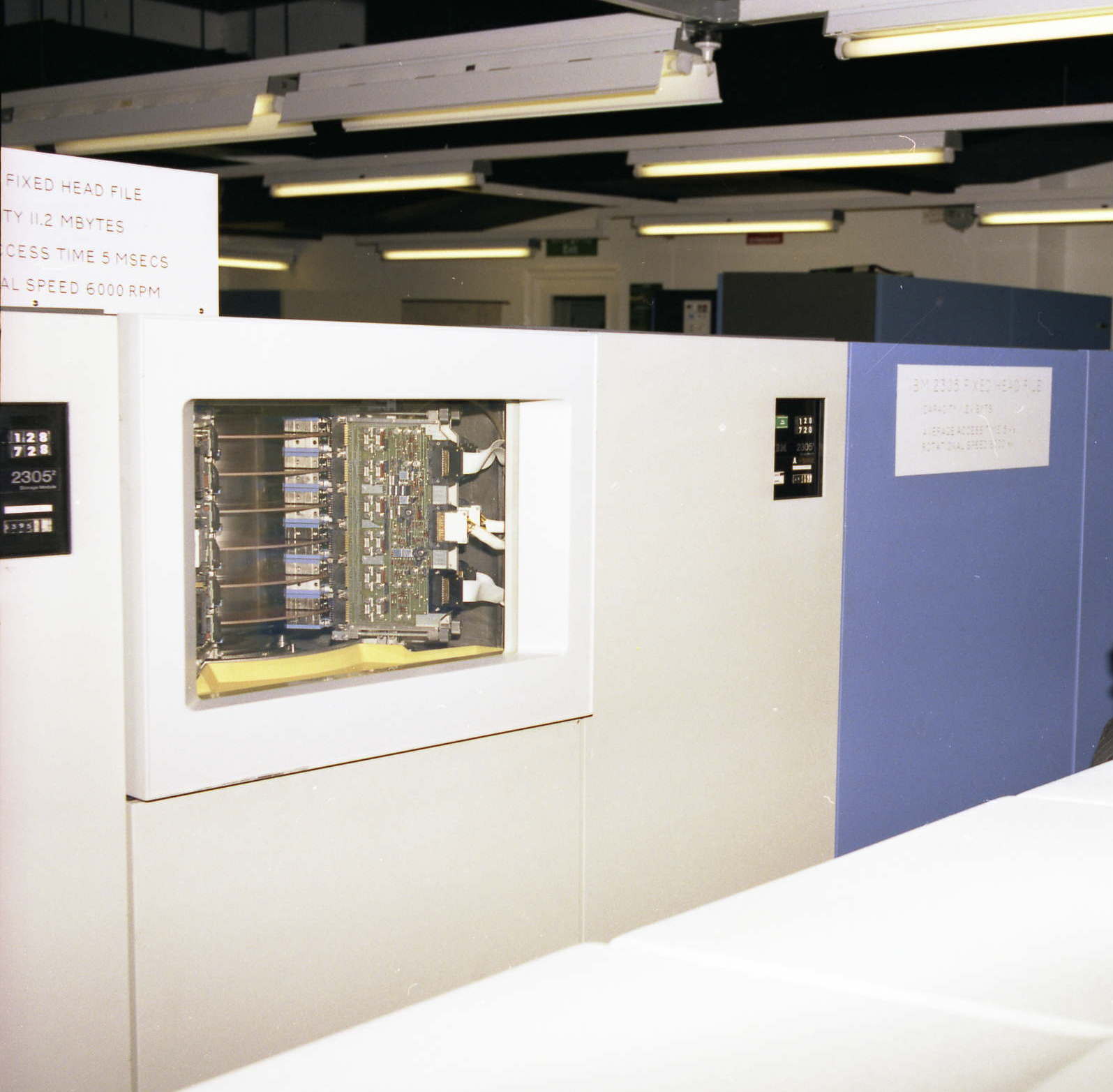 Other peripherals included:
an 8-spindle IBM 2314 exchangeable magnetic disc file, each cartridge holding 29M bytes, with a transfer rate of 312 Kilobytes per second for each drive and an average access time of 75 ms;
16 IBM 3330 exchangeable magnetic disc drives, each cartridge holding 100M bytes, with a transfer rate of 806 Kilobytes per second for each drive and an average access time of 30 ms;
8 IBM 3420-7 magnetic tape drives for 9-track tape, phase-encoded, recording at 1600 bits per inch with a transfer rate of 320K bytes per second;
2 IBM 3420-7 magnetic tape drives allowing recording at either 800 NRZI or 1600 phase encoded bits per inch and 2 IBM 3420-5 drives for 7 -track tape, NRZ recording at 556 or 800 bits per inch, with transfer rates of 69.5K or 1 OOK bytes per second;
2 input card readers, 1000 cards per minute;
4 1ine printers, 132 characters per line, 1100 lines per minute;
card punch, 300 cards per minute.