Jump Over Left Menu
Special Issue: June/July 1998

NOTE: many of the urls referenced in this newsletter are no longer active.
Editorial
Welcome to this Special Edition of ATLAS, featuring some of DCI's work and highlighting the exhibits you can see at the CLRC's Open Days at RAL. These are being held from Friday, 26 June to Wednesday, 1 July. More information is on Web pages http://www.cclrc.ac.uk/Opendays98
DCI has taken as the theme for its Open Days' exhibits "The Knowledge Organisation". The exhibits show how existing knowledge may be identified, captured, managed and exploited and how information from many sources may be accessed, visualized and shared.
With "Partnership at the Leading Edge" being the emphasis of the Open Days, also included in ATLAS is Net North West, a collaborative venture where CLRC, through Daresbury Laboratory, is a founder member.
We look forward to meeting you at our Open Days and hope to have the opportunity to discuss our work with you.
Editor
The Knowledge Organisation
Why is knowledge important?
Most modern organisations have a market value many times their book value. The reason is the value of the knowledge that they have encapsulated within them, in its various forms.
Where is this Knowledge?
In people's heads - experienced staff have accumulated many skills and much information during their working life.
In databases and other information repositories, sometimes including metadata - information that tells you about information you have.
In organisational processes - there is much knowledge in how the organisation performs its business.
As explicit representations of knowledge (as rules, structures, etc.) in knowledge bases.
How can this Knowledge be accessed and managed effectively?
Using World Wide Web Technology - for management and financial information; technical information; cultural information etc.
Using computers and communications to provide high-quality Video Conferencing and tools for Sharing Expertise Worldwide.
Using computational modelling and simulation to enhance our knowledge of how the real world works and by exploiting visual representations of data to help our understanding.
Using a business process focus and training to make the organisation more effective.
Exploiting knowledge-based approaches such as knowledge acquisition, representation and reasoning.
Business Process
What are Business Processes?
A business process is essentially that chain of activities which has to take place to achieve a corporate goal. An example might be ordering and paying for equipment, from initial decision to buy, through to receipt and acceptance of the goods, and subsequent payment. Typically, many people are involved, and coordination of work is important. Broadly, processes can be split into two groups: highly structured, repetitive, often high-volume processes; and flexible, dynamic processes, where the structure of the process can vary markedly between occurrences (e.g. bid management).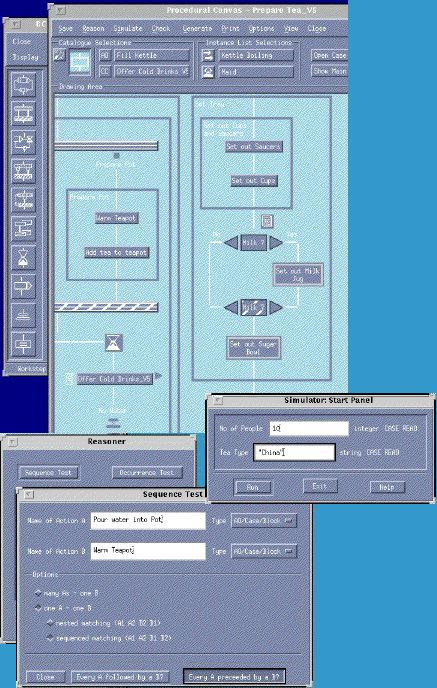 Why are Business Processes Important?
The set of business processes in an organisation essentially defines what that organisation does; business processes are thus an effective way of looking at how an organisation is operating. In addition, using a process view highlights the fact that there are compelling reasons for moving from traditional hierarchical organisational structures to those where the importance of business processes is recognised; these reasons include:
the ability to deliver a better service to customers
the creation of increased flexibility of operations
improved job satisfaction by providing a goal-oriented focus
enabling business transformation to flatter, more effective structures.
How is DCI involved in Business Process?
Two EC-funded projects, HICOS and WeDoIT, enabled DCI staff to become involved in all aspects of structured business process support, from process capture and design, through to execution of the processes on execution engines (developed by other partners on the projects). A current project, Proflex, is developing a system to support project definition, management, and monitoring of highly flexible processes.
How are Structured Processes Approached?
The first stage is to identify and capture at a high level the processes the organisation has, decide whether these meet the organisation's requirements, and to either re-design them or to design from scratch. RAL's process capture/design tool provides an extremely effective business process capture/ design environment. It is designed for use by company business experts (not programmers), who have the vital knowledge of the company structure and policies. It has a powerful and flexible user interface which supports various design methodologies. Libraries of predefined components give access to organisational information. IT components are also accessible, supporting legacy software and possible migration routes to more modern computing practices. Various tools are available to ensure high quality, robust process designs.
What about Flexible Processes?
The need here is to be able to define early stages of a process, enable these to be enacted (including via delegation to colleagues), further define and refine the process as more information becomes available (or existing information is changed), and to keep track of all the active strands against their various deadlines. Sometimes it may well be necessary to cancel sets of activities (say, if a specification is changed), and then redefine the process, if need be re-executing activities that have been done before, but now with new context. The current Proflex EC project is working on this problem to produce a powerful and flexible environment for the harassed project manger, who often has to cope with many such projects at one time.
Ken Robinson, DCI, CLRC
For more information see: http://www.dci.clrc.ac.uk/Activity.asp?Proflex, http; //www.dci .clrc.ac.uk/ Activity .asp?wedoit, http: //www.dci.clrc.ac.uk/Activity.asp?hicos
Knowledge-based Approaches
A range of Knowledge-based Approaches
The effective use of an organisation's knowledge is crucial for operations and planning. Within DCI there is work on applying knowledge-based approaches to:
high-value process management systems, for both physical and business processes
knowledge management.
An example of the use of knowledge-based approaches to improve operational effectiveness is the provision of so-called "co-operative, explanatory" capabilities for information systems. These capabilities include:
presentation of explanations of the system's working and output expressed in terms of the domain (which may be a chemical plant, a water supply network, project management, etc.)
tailoring of the explanations to the tasks and competence of the users
intelligent help facilities
co-operative problem solving between user and system.
A Real Life Application
These capabilities rely on the use of knowledge (whether of the domain, the working of the application itself, or the users) to generate and tailor suitable output to improve the effectiveness of the system in the working environment. In the ESPRIT project I-SEE, DCI led the development of methods and a software toolkit for adding these capabilities to information systems, and three application demonstrators were produced (I-SEE was selected as one of the "101 Success Stories of ESPRIT"). In TAP-EXTRA, a "Trial Application" of the technology, the I-SEE toolkit was applied to a system for flood control in the city of Bordeaux, providing knowledge-based risk assessment and other facilities in the demanding operational environment of a 24-hour control centre. The toolkit and methods were validated and extended, and thorough user trials were undertaken to ensure that the users' needs were met.
The benefits from the TAP-EXTRA project are in improving the reliability and consistency of decision making.
What's really needed
A different example of the value of knowledge arises in requirements engineering. This is the part of the process of developing information systems that involves investigating the needs of the intended users and other requirements holders, and developing a requirements specification for the desired system as a basis for implementation. Within the ESPRIT project F3 ("From Fuzzy to Formal"), work has been done by DCI on leveraging the knowledge of expert requirements engineers. Extensive knowledge acquisition was conducted with expert requirements engineers from the user companies in the project. Often the requirements engineer is given a set of requirements which may be inconsistent, ambiguous, unnecessarily stringent, not concise, etc., and has to eliminate these problems; it is here that the application of domain knowledge plays a crucial role. For example, the requirement for a piece of apparatus to conform to a stringent military standard could be unnecessary if it is known that the apparatus is to be used in an aircraft with human operators, who could not themselves survive the conditions that the military standard specifies. A task model of the requirements engineer was developed, and from this a method and prototype knowledge-based tool to help in the process of Early Requirements Capture, Analysis and Validation (ERCAV), by applying domain knowledge to a set of requirements, identifying problems, and suggesting amendments to the requirements. Justifications for the amendments are provided to help in negotiation with the requirements holders.
These examples show something of the range of applications of knowledge-based approaches. The common theme is modelling - the development of high-level models of aspects of an organisation, or the domain in which it operates, or the information systems it uses, which may be reasoned over to provide results that give real benefits for the organisation.
Gordon Ringland, DCI, CLRC
For more information see: http://www.dci.clrc.ac.uk/Activity.asp?I-SEE, http://www.dci.clrc.ac.uk/Activity.asp?F3, http: / /www.dci. clrc.ac.uk/Activity.asp?TAP-EXTRA
World Wide Web Technology
Sharing Adds Value
Information stored in databases and implicitly in documents and processes needs to be shared with others if its inherent value is to be realised. Recently the Web has provided the technology to make available a company's information in the form of documents. By offering a World Wide Web querying and distribution service of uniformly structured, inter-related (through hyper-links) documents, a company can share its information resources with its (potential) customers and partners. By constructing local Webs (Intranets), it can also share more private company information with its own staff.
Databases + Web = Solution
The requirements for levels of access within a company and outside (only certain people can view certain information etc.) and the need to change and update the information being made available "online" necessitates the integration of database technology with Web technology hence "DataWeb". Here a database is used to provide data integrity and security - wrapping up the database with an interface that submits queries and updates to the database in, say, SQL, and delivers results in HTML. The Web is used to provide access for viewing and updating (using forms for queries and updates). The "Web of Today" exhibit illustrates many different webs including the CLRC's "DataWeb".
Single Access, Multiple Databases
By wrapping up several databases in such an interface (where the interface hides the particular database concerned) we can present the world with a uniform interface to a set of heterogeneous data sources. A particular information domain application of this is illustrated by the AQUARELLE exhibit. Many museums, art galleries and other cultural organisations have, in the past, established databases to record details of their collections. The AQUARELLE project seeks to exploit Data Web style technology to give uniform access to this varied collection of data and in addition, using its concept of a folder, provides facilities for geographically distributed information sources to be linked together to provide single "pan-European" views of its cultural heritage.
World Wide Web Cohesion
Just like any other communication infrastructure, the Web needs maintenance and support. Currently, this support is entrusted to the World Wide Web Consortium (W3C), a consortium of 260 (May 1998), fee paying, member companies and an infrastructure staff hosted at MIT (USA), 1NRIA (Europe) and Keio University (Asia). W3C strives to achieve consensus amongst its members for any changes to the Web which are then published in the form of "Recommendations". W3C divides its activities into four domains:
User Interface - improving the technology to allow users to perceive and express information
Technology and Society - understanding the social impact of the Web
Architecture - enhancing the technologies of the Web infrastructure
Web Accessibility - access by everyone regardless of ability.
The Web Architecture
The Chameleon exhibit illustrates the work of W3C in the architecture domain. The appearance of the Web is going to change from looking like a magazine to be more like television, including video, sound and animation. The Synchronised Multimedia Integration Language (SMIL) has been developed by a W3C working group basing it on a proposal from the Esprit funded Chameleon consortium. SMIL will integrate continuous media, while GRiNS, an interactive graphical editor developed by the Chameleon consortium, will automate the production of SMIL presentations for the web. A demonstration of both SMIL and GRiNS can be seen during Open Days.
As with all technology, new demands ultimately necessitate a fundamental change to the infrastructure of the technology. In the case of the Web, increasing requirements in terms of document presentation style (and its control by authors), user privacy preferences, user access control (parents wish to control a child's access to information on the Web) and user structured documents (i.e. non-HTML conforming) have lead to an overload of HTML and increasing demand in use has overloaded the Web's simple HTTP 1.0 communications protocol.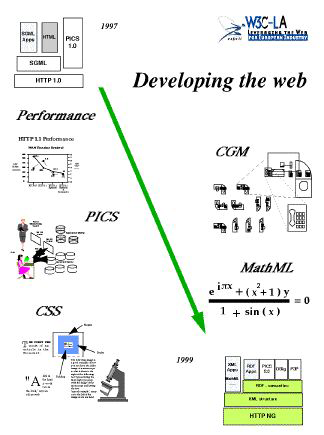 What is needed is a new, simple and flexible basis for the Web. Simple, so as to maintain the Web's popularity, and flexible, so that each new requirement does not necessitate a change in infrastructure. Additionally there are increasing demands to exchange metadata (information about information) and data in a form other than documents over the Web (for example ISO STEP Engineering Data). These have led to a W3C consensus that the extensible Mark-Up Language (XML) and Resource Description Framework (RDF), will form the basis of the "Web of the Future".
W3C Today
Analysis of the membership of W3C in late 1996 and early 1997 indicated a low European (apart from France) participation in the consensus forming design and maintenance activities of W3C. This potentially left European industry at a disadvantage in exploiting the business opportunities available in the emerging Web marketplace. To address this, the European Commission has funded a "Leveraging Action", ESPRIT project W3C-LA. INRIA and CLRC are the partners in this project whose task is to increase the level of European based activity in W3C by leveraging its results. The W3C-LA exhibit provides background information about W3C and describes how W3C-LA is setting about achieving its objectives:
by running symposia, workshops and technical talks throughout Europe
supporting local "Offices" (CLRC is the UK W3C Office)
supporting mirror sites
developing demonstrator software freely available to company "champions" (for example, the development of a Web XML/RDF based business process engine).
Additionally the W3C-LA exhibit will be demonstrating some of the technologies mentioned above.
Stuart Robinson, DCI, CLRC
For more information see: http://www.dci.clrc.ac.uk/Activity.asp?DataWeb, http://www. dci.clrc.ac.uk/Activity.asp?Aquarelle, http://www.dci.clrc.ac.uk/Activity.asp?Chameleon, http://www. dci.clrc.ac.uk/Activity.asp?W3C-LA, http://www.w3.org/
Sharing Expertise Worldwide: Where does the Desktop end?
How do people collaborate today?
Many organisations have staff located at different sites. Many research and development activities nowadays are collaborative ventures, involving scientists from different disciplines, countries and cultures in laboratories scattered around the world. Traditionally the tools of collaboration within such ventures have been face-to-face meetings, postal mail, telephone, fax machine and more recently e-mail and the Web. The use of e-mail and the Web has undoubtedly made a fundamental impact on the way some forms of collaboration are done and has opened up new forms of collaboration. The dedicated video conferencing suite is also proving to be effective in eliminating the need to travel to a common location, for some kinds of meeting. Video conferencing enables richer forms of interaction between participants in a project than can be provided by e-mail and the web alone. However, participation in such a conference typically involves leaving the normal working environment and going to a separate room equipped for this purpose.
How can this be improved?
In the EU Telematics project, MANICORAL, DCI has been successfully investigating the use of Internet-based audio-video conferencing tools on desktop workstations, to enable collaborative working at the desktop as an extension to the normal working environment of each scientist or engineer.
In many fields visualization is an important way of presenting complex information for discussion with colleagues. The project has developed extensions to the commercial visualization system, AVS/Express, which enable colleagues to participate in cooperative interactive visualization and display of data sets. Participants in a collaborative session may share the results of visualizing their data sets and may also share control over the processes which generate visualizations.
Who was involved?
This approach to supporting collaborative working has been developed and demonstrated in conjunction with a group of end-users, representatives of a consortium of geoscientists known as AFRICAR (Altimetry For Research In Climate And Resources), they are located in universities and research institutions in Denmark, The Netherlands, Italy, Austria and Greece.
How does the scientist benefit?
In a typical scenario, a scientist working on a problem may realise that a colleague has complementary expertise that might help solve the problem. Without leaving the normal working environment, audio and video connections may be established to the colleague. These in conjunction with a shared whiteboard space and the shared visualization tool may be used to describe and discuss the problem, bringing in material from other sources as appropriate.
What are the implications for the future?
Through this approach, the boundaries of the desktop are extended beyond the "different time, different place" style of collaboration supported by e-mail and the Web, to the "same time, different place" style of collaboration which was previously the preserve of the telephone or specialist videoconferencing suite. Seeing collaboration as an extension of the normal working environment or desktop provides a powerful way in which to foster new styles of cooperation within a project or organisation.
David Duce, DCI, CLRC
For more information see: http://www.dci.clrc.ac.uk/Activity.asp?Manicoral, See also Video Conferencing Article
Computational Modelling
Over the past years, throughout science and engineering, the availability of powerful computers has had a dramatic impact. Problems that were once thought insoluble have succumbed to the use of computational methods and the rapid processing power of modern computing systems. This approach has not only had an impact in advanced research, probing the fundamentals of our universe, but also in the whole process of product design, optimisation and manufacturing. The range of problems now being addressed by computational methods is vast: from the design of the ever smaller and faster integrated circuits in personal computers to the prediction of a space craft's flight-path to the Moon.
The basis of computational modelling is the mathematical representation of a physical process. Often this leads to a set of partial differential equations. From these mathematical models it is possible to predict the behaviour of the system if a solution can be found. Computational methods and powerful computing systems provide the tools necessary to determine the solutions to many of these mathematical models.
Two important approaches in the solution of continuum mechanics problems are the finite element and finite volume methods. The main features of these methods are geometric modelling, mesh or grid generation, solution algorithms and results presentation. In their own right these are technically difficult problems, particularly when the goal is to make them fully automatic and robust.
CLRC has many years experience in developing and using computational methods of all kinds and in particular, through its support of national super computers and participation in research and development projects the DCI is the focus of much of this expertise.
The Computational Modelling exhibit illustrates, by means of a simple interactive programme, a few techniques from the vast array of numerical methods. These facilities are now available to scientists and engineers to solve problems of analysis and design in the area of continuum mechanics. The demonstration programme allows the user to change the geometry of a problem in order to optimise a number of design criteria. Once the changes have been made the programme displays the changed geometry, generates a new mesh and solves the problem, giving the user that problem feedback on the suitability of the changes made.
This can be viewed as part of the process which many engineering designers now perform daily in the development of new products.
John Ashby, Ron Fowler and Chris Greenough, DCI, CLRC
For more information see: http: / /www.dci.clrc.ac.uk/Group.asp?DCICSEMSW
Virtual Reality Centre
The VR Centre is where many of our visitors and project partners first experience the exciting possibilities which virtual reality can offer through adding an extra dimension to their interaction with a computer. The Centre is located at Rutherford Appleton Laboratory, adjacent to the Central Exhibition area, and houses a large screen projection system for displaying the images generated in real time using our powerful Silicon Graphics Onyx Reality Engine computer. It also houses a range of other VR equipment which we use in our work.
The Onyx computer creates and maintains a three dimensional (3D) world model, often known as a virtual world, and computes two 2D views of this world which form a matched stereo pair. These are the views that your two eyes need if you are to see the virtual world in 3D. The images representing these two views are then fed to two ceiling mounted projectors which project them onto the screen. You look at the screen using a pair of simple polarising glasses so that each eye sees only one of the images and your brain is tricked into thinking it is seeing a 3D scene. By immersing yourself in a virtual world in this way, you can be transported to northern Norway to see the EISCAT radar facility or taken inside the complex engineering design for the new MAPS instrument on ISIS.
Another way of seeing and interacting with virtual worlds is to wear a head-mounted display. This contains two tiny LCD screens which provide the stereo images created by the computer directly to each eye. These headsets, as they are often called, also contain a tracking device that tells the computer in which direction you are looking. The computer then shows you the view of the virtual world in that direction. As you turn your head, the view changes just as happens in the real world. Quickly you start to feel that you really are immersed in the virtual world.
You can move freely around within the virtual world using a special control device held in your hand such as a 3D mouse, spaceball or spacemouse. Objects in the world can be made to behave like solid objects so that you can pick them up. When you collide with them, you stop. When you drop them, they fall to the floor. They can even be made to make sounds, for example when they collide, just like in the real world.
Besides these immersive techniques, you can also use computer monitors and active LCD stereo glasses to view computer-generated virtual worlds. These let you see in 3D on a normal computer screen.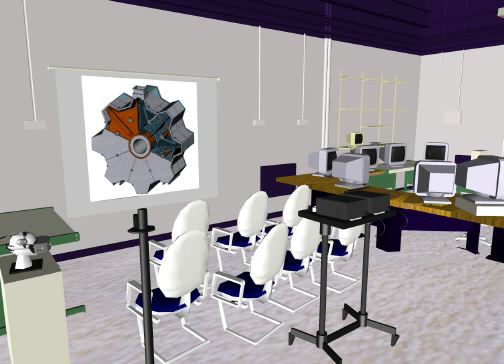 Although VR has traditionally used very powerful computers, the power of PCs is growing rapidly and we are investigating how well they can be used for creating interactive virtual worlds. In a few years, this may be the way we all interact with computers for tasks which have a high degree of spatial content.
The VR Centre is the focus for all our VR activities and at the RAL Open Days we will be showing a range of examples of virtual worlds we have created for the science and engineering programme in CRLC and for our projects with external partners. These are described in the next article on Virtual Reality Projects.
The pictures show a photograph of the real VR Centre and an image of the virtual VR Centre. You can visit both during the Open Days.
David Boyd, DCI, CLRC
For more information see: http:/ /www. dci.clrc.ac.uk/Group.asp?DCICSEAIS+114
Virtual Reality Projects
Virtual Reality has been used for projects in many areas of CLRC's programme. This article looks at some of them.
ATLAS End Cap Toroid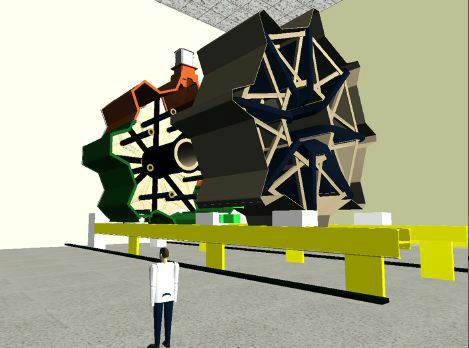 This project, to design and build part of the huge ATLAS experiment for the Large Hadron Collider at CERN, used VR to study how the parts of the design for the toroidal superconducting magnet could be assembled. Models of the various parts were first created using a normal CAD system. They were then transferred into the VR system and an animated assembly process was created. This was used to make a video to show all our project partners how we intended to carry out the assembly. In addition, the 3D virtual model of the AECT magnet was used by project scientists and engineers to confirm that details of the design were as they expected. The result was a better design and better communication between the project partners.
MAPS Instrument for ISIS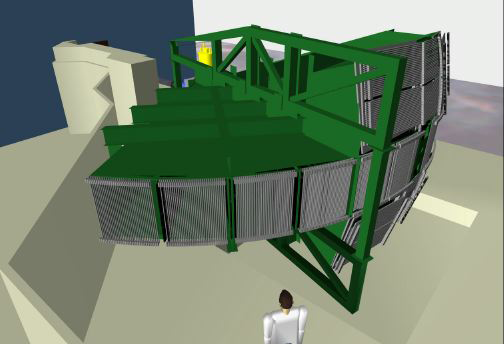 MAPS is a new experimental instrument being constructed for use on the ISIS pulsed neutron source at RAL. It is a complicated shape to allow the neutrons scattered from the sample of material under study to reach detectors spread over a wide solid angle. It was difficult to verify the design using a CAD system so VR was used to enable scientists to don a headset and put themselves in the centre of the material sample. From there they could visualise the flight paths of the scattered neutrons and could confirm that the design was correct. An animation explaining the components of the instrument and showing how it will operate was created and made into a video. This has been shown to the scientists who will be using MAPS when it is operational.
EISCAT
The European Incoherent Scatter facility (EISCAT) in northern Norway is used by scientists from CLRC to measure properties of the upper atmosphere. These scientists must learn how to operate the complex control system for the high powered radar antennae before they can collect their data. Normally this involves spending time at the radar installation being instructed in its use.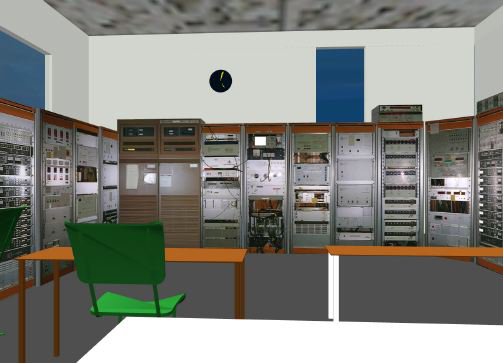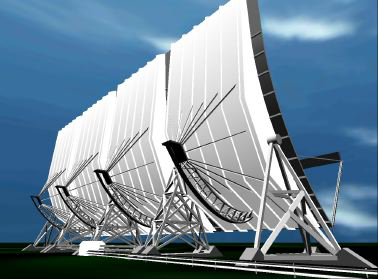 However, by constructing a virtual control room, we can train the scientists in basic operational, fault detection and correction procedures without them having to leave Rutherford Appleton Laboratory. The virtual control room has also been embedded in a virtual model of the complete EISCAT facility to enable visitors to be taken on virtual tours of the site.
Mesh Repair
Computational engineering may appear to be a rather abstract subject but it has a very practical objective, to produce safe and efficient designs for things like aircraft and cars. To achieve this, very complex calculations must be carried out by dividing up the space around the aircraft into a 3D mesh of tetrahedra. This is normally done automatically by computer programs but these can occasionally produce meshes which are not quite correct. VR provides a novel way of solving the problem of how to repair these mesh problems. The users can immerse themselves in the virtual world of the 3D mesh and can carry out the repairs in situ by moving parts of the mesh until the problem is corrected. Thus an abstract computational problem is turned into a task which is much more intuitive.
Flow Visualization
Fluid flow is a very complex phenomenon. We normally cannot see what is happening inside a flowing fluid but we need to understand the behaviour of the flow if we are to correctly design manufacturing processes and gas turbines. The immersive power of VR provides a way of going inside a computed fluid flow and, using data visualization techniques, looking at important details of the flow. By moving around within the fluid, complex 3D structures can be studied and the time-varying nature of the flow can be understood.
Visualization of Commercial Data
Conventional software for visualising commercial data, such as AVS/Express and IRIS Explorer, provide powerful techniques for representing information visually but more limited facilities for real time exploration of these visual representations. By extending these tools using VR, we are providing our industrial partners in the EU-funded VIVRE project with a new way of examining their data. They will be able to immerse themselves within the volume of their data and navigate to the position of greatest interest. They can then request changes in the way the information is displayed until they find the optimum way of looking at it.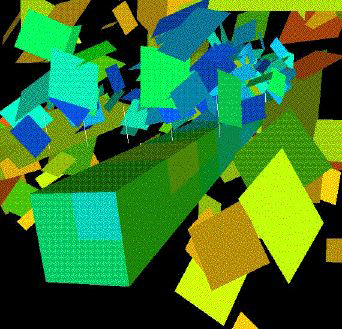 This can be captured by taking virtual photographs of what they see and turning these into real images. Beyond taking static pictures, however, it is the ability to study the information in a dynamic way in real time that is expected to provide the greatest benefit.
David Boyd, DCI, CLRC
For more information see: http://www.dci.clrc.ac.uk/Group.asp?DCICSEAIS+114
Video Conferencing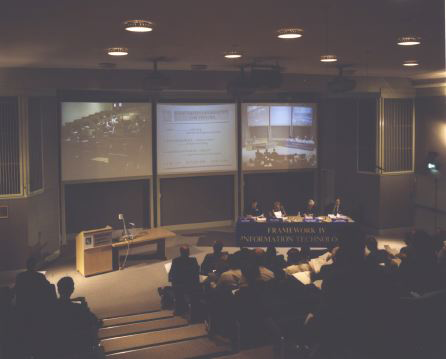 How often does a meeting raise the prospect of an early start, long journey and limited time for the actual meeting? How much worse when it is abroad! It was inevitable that, as soon as video conferencing became affordable, it was bound to become popular. RAL now runs nearly 10 video conferences each week, often with two meetings at the same time. The benefits are enormous: no travelling on congested, fume-laden roads; more time for the meeting; greatly increased possibilities for more people to take part; easy access to papers you might have left behind if you had travelled. RAL has three rooms and the Lecture Theatre wired up for video conferences; Daresbury Laboratory, has one main room and its Lecture Theatre available. Each room has multiple cameras, allowing good face-to-face contact, and equipment for inclusion of paper, foil, video and computer input is available at both sites. CLRC actively promotes the use of video conferences for international project meetings, thereby saving enormous time and money that would otherwise be wasted on air travel.
Chris Osland, DCI, CLRC
Digital Media Services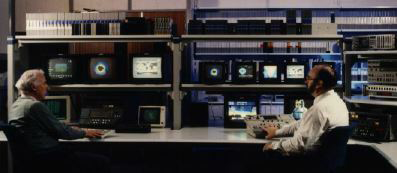 These days, scientists and engineers are under greater pressure than ever to communicate their work to their colleagues and those responsible for future funding. In addition, broadcasters, publishers and educators are increasingly demanding higher quality graphics, animations and video material so as to explain complex phenomena to the general public. Combine this with the mushrooming popularity of the Web as a means for delivering information to an international audience, and you can see that scientists and engineers can be intimidated by the task of producing pictures that explain their work.
With virtually all scientific results these days being held in digital form on a computer, there is an obvious need for a means of transforming this data into the media - pictures, foils, video, CD-ROM, Web pages - needed. RAL's Digital Media Services provide this bridge. Its staff have been involved in computer graphics and related fields since the earliest days in 1970 and RAL has provided animation facilities, originally on film and now on video, for thirty years. The experience gained in the areas of computer graphics, visualization, virtual reality, video production from computer data, soundtrack preparation and video conferencing is on tap to users wanting to create clear and powerful presentations of their work.
The Digital Media Services are based on the equipment in the MediaLab, which includes broadcast quality video disk recorders (Abekas digital and Pioneer analogue), Betacam tape recorder, U-Matic, VHS and Hi-8 recorders, Soundcraft broadcast audio equipment, two CD-ROM writers, MPEG-1 encoder system, colour scanner and several colour printing systems. The MediaLab is linked - by local area network, video and audio - to the VR Centre, and many projects use the powerful VR computers for rendering the complex models typical of large national and international collaborations. Output from the MediaLab has been used by all the UK television channels and many examples are being shown around the RAL site as well as in the Media Lab itself.
Chris Osland, DCI, CLRC
For more information see: http://www-aisg.cis.rl.ac.uk/aisg-dev/clrc.ac/struct/AISG/topics/digital-media.html
Kiosk Systems
The information kiosks used throughout the Central Exhibition Area have been developed by CLRC. They combine modern touch-screens with standard PC system units and use Web software, adapted to make best use of the touch-screens. This means that they are economic to produce and the material is stored in what is rapidly becoming the worldwide standard for screen-based information.
CLRC use these systems at conferences, exhibitions, trade shows and, of course, Open Days. As the information to be displayed can be provided in any of the standard Web forms, scientists, engineers and administrators can all contribute material that can be incorporated easily. Staff in the DCI can then help improve the layout and organisation of the information for use on the kiosks.
Chris Osland, DCI, CLRC
Atmospheric and Climate Modelling
DCI provides high performance computing resources to all the UK Research Councils and in addition operates a Fujitsu VPP 300 vector parallel machine solely for NERC. The largest NERC project and one of the largest users of high performance scientific computing in the UK is UGAMP (Universities Global Atmospheric Modelling Project).
UGAMP's aim is to improve the science of climate forecasting including natural variability and the effects of human activity, most notably of course the increase in CC>) and other greenhouse gases. The study of climate requires a detailed understanding not only of the atmosphere but also of the oceans since the heat and moisture input from the ocean surface is one of the major drivers of the large scale atmospheric motions.
El Nino and the Asian Monsoon
One of the most topical of the UGAMP research projects is the influence of the Pacific Ocean phenomenon known as El Nino. Year to year variations in the surface temperature of the Pacific Ocean have a major impact on the strength of the Asian monsoon and have, in the last two years disrupted much of the Pacific rim through droughts in the Western Pacific and floods in the East. During the so-called El Nino years the sea temperature is higher than usual over the Eastern Pacific and the Asian monsoon is weak. During the La Nina years lower temperatures in the Eastern Pacific have the reverse effect.
The recent El Nino episode has been so intense and lasting that it has severely disrupted much human activity on both sides of the Pacific and has encouraged more detailed studies of its effects. UGAMP have identified mechanisms where El Nino and its immediate effect on the Asian Monsoon spread much wider and have definite effects over some two thirds of the earth's surface.
Roger Evans DCI, CLRC
For more information on UGAMP projects including the effects of global warming and modelling of the polar ozone depletion see the UGAMP Web pages: http://www.met.rdg.ac.uk/ugamp/ugamp.html
Designer Materials
CLRC has a long association with the chemistry and materials science research in the UK through the Collaborative Computational Projects (CCPs) and use of the CLRC supercomputing facilities. One of the major research groups in the materials area is from the Royal Institution in London, headed by Prof Richard Catlow.
Designing Zeolyte Catalysts
Zeolites are an important class of micro-porous materials used extensively as catalysts and gas separation media in the chemical industry. Their properties arise through their interlinked pore structures of alumino-silicates and alumino-phosphates which are of atomic dimensions and come in a variety of sizes.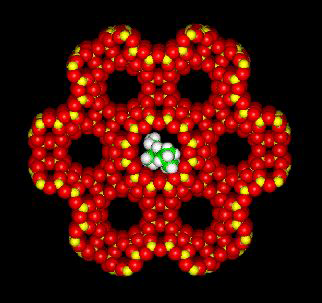 Zeolites are manufactured from a gel containing large organic molecules which are subsequently "burned" out leaving behind the Zeolite cage structure. The role of the organic component is to provide a template around which the alumino-silicate structure can form and the size and shape of the organic molecule defines the resulting Zeolite structure. Some important Zeolites are difficult and expensive to make through the lack of suitable organic formers. "New" Zeolites can be designed from symmetry group theory even though they have not yet been observed in nature or synthesised.
Recent work at the Royal Institution and at Cambridge has harnessed CLRC's supercomputing power to sound chemistry principles to explore the range of organic molecules which would be the "best fit" in binding to the interior cages of various Zeolite structures. The work is already showing great promise in producing more cost effective prescriptions for making industrially important materials.
Roger Evans, DCI, CLRC
For more examples of the work of the Royal Institute using supercomputing facilities at CLRC see the Web pages at http://wwwhpc.rl.ac.uk/talks/ri.htm
Computer Simulation: Working in the Virtual Matter Laboratory
A revolution is sweeping through materials science! The way we attack problems and understand the material world has been radically altered by the advent of computer simulation, which is now fundamental to this and in fact almost every scientific endeavour. Simulation is both theory and experiment in one, working with mathematical models of the real world - what might be called "virtual matter". Simulations are now so accurate that in some cases they can be used to predict what will be seen in a real experiment. In other areas they provide the means to solve problems that cannot be tackled in any other way. Ever increasing computer speed and the ingenuity of the simulator guarantee that simulation will continue to expand its horizons rapidly, becoming an essential part of the scientist's toolkit.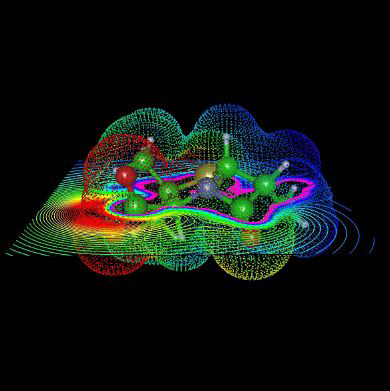 There are many kinds of simulation: one large class goes under the name of "atomistic computer simulation", and works with models that explicitly contain atoms. These are very powerful methods capable of exploring all the properties of "condensed matter", i.e. solids and liquids. The central problem in studies of condensed matter is that the atoms interact with each other. An analogy is helpful here: it is impossible to solve analytically (with a pen and paper) the equations which describe the motion of the planets around the sun, because they each are influenced by all the others. It's the same in condensed matter, each atom is influenced by many others. Simulation allows us to side-step this impasse.
The RAL Open Days exhibit starts with an exploration of the amazing and beautiful structures in which atoms are arranged inside materials. We show how the famous Schrodinger Equation can be used to describe electrons in materials, and why this implies that all of chemistry can - in principle - be understood. Simulations are the means by which we solve our equations, and this is vividly shown with a hands-on display where you can do your own computer experiments. Finally we showcase some of the grand-scale simulations we have used to solve real-world problems.
Phil Lindan, DCI, CLRC
RAL Computing Training
A successful organisation must have a well trained workforce which can enable it to meet its objectives and respond quickly to new demands. Computing Training forms an essential part of any large organisation's training programme. This is particularly true in CLRC, which is one of Europe's largest multidisciplinary research organisations. The majority of computing training for the staff at RAL is provided by DCI through the RAL Computing Training Group. A full range of courses is provided covering programming and software development, systems administration and software packages. The training facility is fully equipped and training takes place in small groups. This is essential to enable our staff to get as much as they can from our courses.
In support of the work of the Laboratory, courses are also open to non-CLRC staff covering researchers from universities, including the Research Councils' grant holders and other local research establishments. Local industry have also sent their staff onto our courses.
Susan Hilton, DCI, CLRC
If you would like more information, please see the RAL Computing Training's Web pages at http://www.clrc.co.uk/comp_training
Electronic Forms
Over 5 years ago, when RAL was still an establishment of SERC, and well before the explosive growth of the Internet and the Web, it was beginning to work with partners in HEIs on the development of electronic forms. The project was aimed at providing academics who were applying for research funds with tools to help in the preparation and electronic submission of the complex and detailed forms. The tools were designed to be used by support staff too.
The project was funded first by SERC, then by its natural successor EPSRC, and has now been taken over by ESRC and CLRC. It will expand significantly in the next year.
The work started in the early 1990s with a feasibility project to explore the possibility of doing:
what the Academics wanted, which was to enter data into a form, edit it and produce a printed copy that was as much like the preprinted version as possible. One of the most frequent complaints was that fewer and fewer university departments had typewriters and editing forms was very difficult - definitely not in the spirit of the age of Information Technology
what the Research Councils wanted, which was to ensure that the data was entered correctly, that nothing was missed out, in short that the Councils' "business rules" were obeyed in such a way that the data could also be submitted to the Council electronically.
From these experiments the early versions of the SERC eRG2 were developed. The idea, often suggested by many, to use Word Processor documents or templates was tested and rejected as unworkable, and at the time the Web was not an option. So a stand alone system was developed for both the Apple Macintosh and the IBM PC. The key features of the system are:
the software is distributed via the Internet, free at the point of use, with a minimum of hardware and software prerequisites
the user is able to use all facilities without requiring a connection to the Internet except when submitting forms electronically
the software saves form data in files that are fully interchangeable between supported platforms, which can be sent between cooperating users as mail attachments, ftp etc., and yet which are secure
the software implements and checks that all business rules associated with a funding application have been obeyed and reports to the user any which have not. Forms not passing this "Health Check" print clearly labelled as Draft, whereas forms which pass are identified with a reference number which is unique to the form data. Thus a signed printed form sent to the Research Council can be matched with the electronic form submitted over the Internet.
ESRC has advanced this technology in the past two years:
the most recent advance was the development of submission facilities for the form data file and a supporting document prepared on a word processor which can be processed into the Council's Grants System, and acknowledged automatically
on average 20 copies of the form filling software are downloaded every day
ESRC now receives about 50% of the submission for its Research Grant Scheme using electronic submission.
The next stage is:
to provide HEI Administrators with a separate authorisation/submission tool which performs the function equivalent to the signature by the Administrative Authority (the Official Stamp)
to expand the system to cover other funding schemes such as Research Fellowships and Research Centres.
Jed Brown, DCI, CLRC
For more information see: http://perseus.cc.rl.ac.uk/eserp/
CLEO - Central Laboratory Electronic Office
DCI Office Systems Group provides support and development for the PC software components of CLEO. The main areas of expertise are:
the provision of corporate services for e-mail, personal and resource scheduling, file-sharing and WWW-based services
user support knowledge of many Microsoft products including Windows NT and the Office program suite for word-processing, spreadsheet, presentation and database needs
training and presentation skills for CLEO user education and marketing
helpdesk operations and management, providing user support, tracking queries and ensuring swift feedback
system development and tailoring in response to user group consultation
knowledge of the latest office system developments.
We welcome interest in our continuing expertise in the provision of office system solutions and look forward to meeting visitors at the RAL Open Days.
Visit our Web page at: http://www.dci.clrc.ac.uk/Group.asp?DCISEROSP
Net NorthWest
Super Janet III (SJ-III) came into existence at the beginning of April 1998 and provides a high speed ATM-based backbone network to the academic community. In many parts of the country metropolitan area networks (MANs) have been developed which join together geographically located Higher Education Institutes (HEIs) with a single, shared connection to the SJ-III infrastructure.
In the North West of England a development has been underway for the last twelve months and in July 1998, Net NorthWest will provide an extended MAN for the HEI in this geographic area in addition to providing their connection to SJ-III and the Internet. The network is built using fibre optics configured as a star based on Manchester using ATM technology and providing, in the first instance, an Internet (TCP/IP) service to its members.
The Daresbury Laboratory, as a founder member of Net NorthWest, will connect at 155 Mbits/sec to this regional infrastructure which will also provide Daresbury's connection to SJ-III and the Internet. The connection is provided through a single controlled "gateway" located at Manchester. This provides an important benefit insofar that as the consortium owns the MAN and it can determine, within some limits, its use. This allows the flexibility to link in SMEs, science and business parks, public libraries and museums, FE colleges and schools to this MAN. In addition an Internet Service Provider could be used to provide an alternative connection to the Internet to allow commercial access to be offered; something which is not authorised to operate over SJ-III.
The members of Net NorthWest are the universities of Liverpool, Salford, Central Lancashire, Keele, Stafford, Liverpool John Moores, Manchester, Manchester Metropolitan, Lancaster and UMIST together with Hope University College, Royal Northern College of Music, Bolton Institute, Edge Hill College, St Martins College, Cumbria College of Art & Design and the Daresbury Laboratory. Their location in the North West of England can be found in Figure 1 which shows the full geographic extent of Net NorthWest.
The founder members have identified the need for an infrastructure which goes beyond connecting the main campuses of the institutions and will involve networking a whole range on subsidiary campuses and sites. Net NorthWest is seen as something much broader than an initiative to improve electronic communications amongst its members. It is seen to provide an important opportunity for regional collaboration which will support not just educational developments but also economic regeneration.
Net NorthWest see this development as an opportunity for the following reasons: it provides high bandwidth inter-institution networking at lower costs; it offers opportunities to expand regional collaboration in new ways, particularly vital with the establishment of Regional Development Agencies; it represents a proactive initiative in support of political and educational developments of a regional nature; it facilitates the development of links with other bodies outside the HEIs in the region; and it opens up possibilities of additional funding from various sources which might not otherwise exist.
With the core network in place the members will be in a position to assist in the creation of opportunities for the North West region as a whole. In particular, Net NorthWest can become a vehicle for inter-regional collaboration leading to the promotion of the information society involving higher education; further education; schools; SMEs; public libraries, museums etc; chambers of commerce, business links; and TECs.
The purpose of this collaboration will be to encourage technology transfer; to promote training and life long learning initiatives; and to encourage innovation. This will lead to regional developments which will foster job creation and sustain existing jobs.
However, Net NorthWest cannot be seen in isolation from other regional projects. Rather it will provide an infrastructure which will facilitate linking sub-regional projects such as Connect, theNW Technology Web, GEMESIS and G-MING and will be a network which can also support the IRISI agenda. It is a network with a primary purpose to be open to those with the imagination and reason to utilise the opportunities offered.
Robin Tasker and Paul Kummer, DCI, CLRC
For more information see Net NorthWest Web site at:> http://www.netnw.net.uk/
CyberCafe and Building a Web Page - Schools Project
CyberCafe
DCI will be hosting a "CyberCafe" during the public Open Day on Saturday 27 June. By dropping into the CyberCafe, visitors will be able to take the opportunity to explore the ever increasing pool of information that makes up the Web. A number of powerful Macintosh workstations will be available where the visitor can make use of the popular Netscape browser to explore various Internet sites or "surf the web" as it is commonly termed.
Visitors will be able to have hands-on experience of what the Web really is and to gain some experience of the wealth of information that can be accessed by someone with little or no previous experience of computers. Visitors will be guided to a number of sites where they can view multimedia displays of scientific, artistic, cultural and educational material. They will be shown how information is linked together via hypertext links and how one can traverse these links by a simple click of the mouse.
The CyberCafe will complement a lecture to be given by Ted Hughes of Daresbury Laboratory on the use of the Web and will be located in the DCI training classroom. At the end of their visit it is hoped that visitors will have seen the benefits of having Internet access and how it can be used both as a tool to aid in scientific research and as a family educational medium.
Building a Web Page Schools Project
During Open Days DCI will be hosting a project aimed at demonstrating to school children how easy it is to build their own web site and thereby encourage their schools to take their place on the Internet. The aim will be for the children to build a small set of Web pages for their school or individual class. The project will show how several types of information: text, images and possibly audio can be combined to good effect on the Web. The end product will include a main (home) page and links to a few associated pages, each containing information about the school, teachers, pupils etc. Use will be made of a scanner and digital camera as well as a web building software package running on Power Macintosh computers.
Photographs and text about their school, teachers, facilities etc. will hopefully be brought in by the pupils. A limited amount of additional text can be typed in on the day, and some photographs of children and teachers will be taken on the day using the digital camera.
The project will be located in DCI's RAL Computing Training classroom and the children can also make use of the CyberCafe in the same location. For those schools which already have access to the Internet or are about to go on-line, it may be possible to set up a 'schools web' on one of our servers for a temporary period so that they could access the material they have produced from their schools and also view what other people have created if they wish. It would also allow other pupils from their school who were not able to come along to RAL to view the work done during the visit.
Neil Calton DCI, CLRC