Jump Over Left Menu
Finite Elements SIG
The FESIG recommended two approaches:
to mount a number of packages to provide a service for engineers with specific problems to solve
to develop an FE library of routines (the NAG/SERC Library).
The first objective was to support, for those researchers requiring robust, well-developed software, two FE packages, following an evaluation exercise. The two chosen were:
ASAS: a large, well-documented system with a good user interface. It provides linear static and modal analysis capabilities.
BERSAFE: a suite of programs that only handled medium-size problems, but has a wider analysis range, including plasticity, creep, fracture mechanics and transient heat transfer.
Both packages were mounted on the IBM 360/195 initially.
Later, the FEMGEN interactive graphics mesh generator was mounted on both Prime and GEC systems and interfaced to the available FE software. It was well-liked by users and provided an excellent tool for the pre-analysis phase.
The second objective was to develop an FE Library for the large community of research workers who wish to develop software; and to provide interactive pre- and post-analysis tools to help overcome the problems of data generation and validation, and output analysis.
The Finite Element Library was not a package: it was aimed at those users who wish to develop new analysis techniques. It was a two-level library:
Level 0 was a set of subroutines providing most of the basic operations needed in constructing an FE program:

standard vector and matrix operations
equation solvers
eigenvalue and eigenvector extraction
data handling
numerical integration
shape functions
strain-displacement matrices
stress-strain matrices
assembly routines
utility routine

Level 1 consisted of a set of programs showing how the Level 0 library could be used to solve a wide range of problems in both structural analysis and fluid mechanics:

static analysis of solids
dynamic analysis of solids
steady state potential problems
time-dependent potential problems
non-linear potential problems
The FE Library was made available on the GEC, PRIME and IBM systems and courses were held to train researchers in its use.
The Finite Element Library (FELIB) became very popular for the numerical solution of partial differential equations using the finite element method. It met the needs of the algorithm developer and was very flexible and enabled its users to apply the finite element technique to any new research area in mathematical physics where packages did not exist, for example, in free-surface flows and non-Newtonian mixing. Chris Greenough and associates at RAL started developing the FE Library in 1978 and was written in Fortran 77. Version 2.0 of the Library was distributed by NAG in 1982 (FE02) and Version 3.0 (FE03) in 1987. A parallel version of the library, PARFEL, was released in 1990.
The figures below show how the Library could be used to go from geometric model via mesh generation to the solution.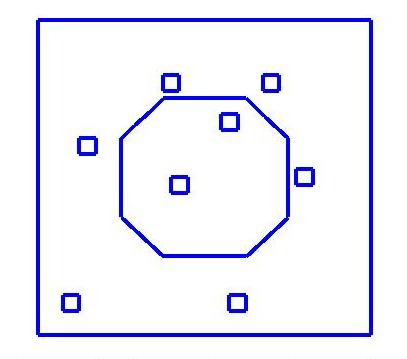 Regular FE User Meetings were held and a series of one-day specialist meetings called FE Colloquia. The attendees came from a wide range of disciplines as FE was recognised as a general technique for solving partial differential equations. The structural analysis area was the dominant user.
Some of the groups that used the provisions of SIGFE were:
User groups:
| University/Institute | Project |
| --- | --- |
| City | Instrument transducer modelling. |
| Kingston Poly | Fracture mechanics |
| Open | Plastic zones at end of notch |
| Birmingham | Dynamic and acoustic behaviour of industrial machines. |
| Heriot-Watt | Forced vibration of electric motor casing. |
| Bath | Electromechanical stressing in electric motors |
| Swansea | Infinite elements |
| Robert Gordon's | Drilling fluid flow |
| UMIST | Water movement in porous masonry |
| Newcastle Poly | Structure of thin films |
| Liverpool | Tidal flow in estuaries |
| Surrey | Analysis of trombone vibrations |
| Glasgow | Ultimate load design methods for plates and walls. |
| Preston Polytechnic | Lubrication of bearings |
| Bath | Diesel engine design |
| TRRL | Tunnels and underground pipes |
The current version of the FE Library is Version 4 released in 2002. Over 3000 copies of the FE Library are known to exist.
Two of the 1982 Boards used to publicise the Finite Elements method and the FE Library: