Procurement
The set of machines available had changed significantly since 1976. The major change being that DEC had introduced the VAX computer which was ideal for the type of work of potential Starlink users. Starlink's main objectives were to:
Provide and coordinate interactive data reduction and analysis facilities for use as a research tool by UK astronomers.
Encourage software sharing and standardisation to prevent unnecessary duplication of effort.
Provide systems software support for astronomers.
There was a greater emphasis on data analysis and the CPU-intensive design requirements of the engineers were not required.
The computer chosen was the DEC VAX 11/780. The work was led by Cliff Pavelin with support from Pat Wallace on the astronomy side. Anton Walter was also involved from the computer side and Bob Dickens, the Project Scientist, from the astronomy side. Ken Hartley of RGO was responsible for the Image Display Tender exercise. Overall the total computer power exceeded that of the 360/195 mainframe, had 5000 Mbytes of disc space and 12 Mbytes of memory. The total value including the image displays was £1.7M.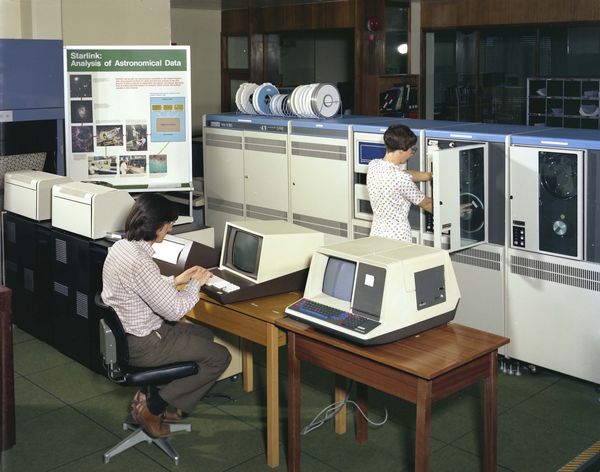 Full image ⇗
© UKRI Science and Technology Facilities Council
Starlink was the first astronomical data processing system to use networking extensively. The early links ran at 4800 baud and used DEC protocols exclusively.
The VAX turned out to be a good choice for the facility. It had a powerful, well-documented, user-friendly operating system and was compatible with astronomical groups world-wide.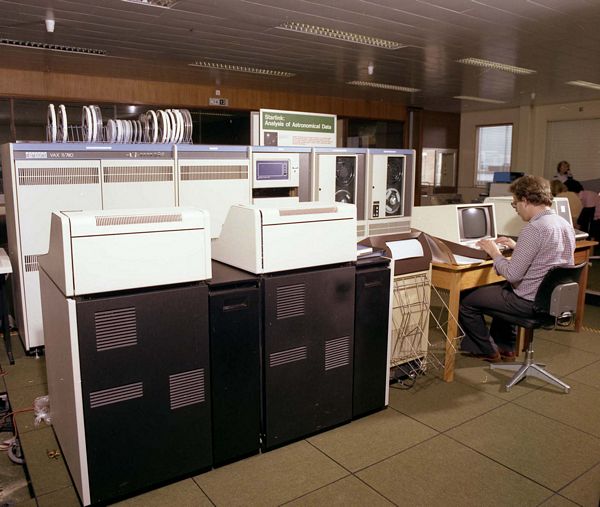 Full image ⇗
© UKRI Science and Technology Facilities Council