Tektronix 4014 Storage Tube
The Tektronix 4014 came out in 1974 and there were several early ones purchased around the Chilton site. It was relatively expensive at about £10K but the large screen meant that it was feasible to do detailed CAD work on it. As well as the cross hairs, it was also possible to draw a small amount of non-stored graphics in Write-Thru mode so that a reasonable user interface could be established with feedback despite using a storage tube. Special techniques were added to graphics packages to allow deletion by crossing out so that the time between display refreshes could be as productive as possible.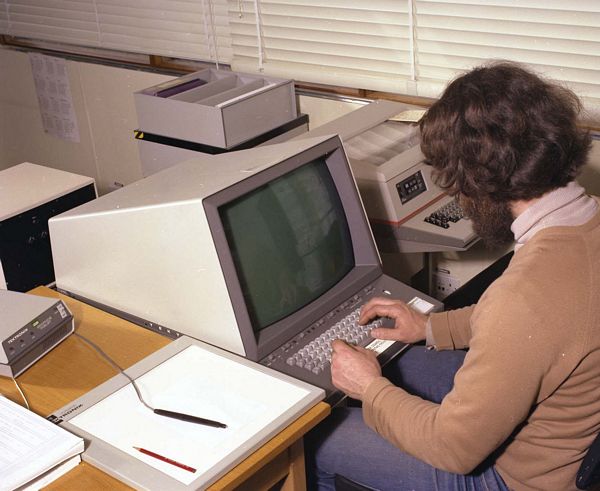 The command set was an extension of that of the 4010. The 4014 could be switched into Graph Mode after which subsequent output was interpreted as vector drawing commands until it was switched back into Alpha Mode when it reverted to being more like a VDU although it was possible to draw the characters at specified position on the screen and at different sizes.
Drawing a full screen vector took about 3.25 millisecs. The command consisted of four bytes (5 low bits per byte define the coordinate, the high order bits determine the command). Thus the four bytes defined (HiY, LoY, HiX, LoX) and either the beam was moved to that position or a line was drawn from the current position to this position dependent on the state. The first three bytes were stored in registers in the terminal and did not need to be resent if they were the same as the previous command. This was the major method of optimising the line usage and speed of the machine.