Jump Over Left Menu
1973 Press Releases
1973
Atlas, Oxford joint Fellowship
Computer Weekly: 04.01.73
The Science Research Council's Atlas Computer Laboratory and St Hilda's College, Oxford have awarded a joint Research Fellowship to Dr Gioietta Kuo-Petravic, tenable for three years from October. V took the Natural Sciences Tripos and has a PhD from Birmingham.
She has published several papers on nuclear physics, mathematical physics and computer science, many in collaboration with her husband, Dr Marijan Petrovic, a Yugoslav.
Dr Kuo-Petravic, who has worked at Saclay, Zagreb, Birmingham, Culham and Oxford, is currently interested in methods of computer attack on physical problems described by partial differential equations.
MBE for a school governor
Wiltshire Gazette: 04.01.73
One of the governors of Churchfield School, Swindon is amongst the MBEs on the New Year's Honours list.
Mr Cyril Roberts, 53, of Brixham avenue Swindon is head of the Administration Group at the Atlas Computer Laboratory, a government establishment near Harwell.
The Laboratory, which is under the Science research Council, specialises in computer work for all universities and many government departments.
Mr Roberts has worked at the Laboratory for the past ten years.
He came to Swindon in 1960 as administrative assistant in Swindon Corporations's Education Department.
How Atlas sprang a leak and the flagship 1906 couldn't assist
Computer Digest: 31.01.73
Sandwiched between the 360/195 at Rutherford and the 370/165 at Harwell is the Science Research Council's Atlas Computing Laboratory in Chilton, home of some of the world's computing firsts. But dear old Atlas is getting ancient and creaky, harder and harder to maintain, and it will have to come out at the end of March. Last year it was announced that SRC would replace Atlas with the 1906 - the big-six model. flagship of ICL's Old Range.
Now word reaches us that ICL and SRC are suffering some embarrassment, with severe hardware and software problems on the big-six. So far it has not even been able to come up to Atlas standards, and the workload has been cut down to the do-it-yourself boys (in official language, SRC-contract university work only - the users who can develop their own applications software).
Now we hear ICL is offering to pull out the big-six and replace it next January with a P-Range machine, working on peripherals interface and software development in parallel.
Wake for Atlas
Nature: 6.04.73
THE original ICL Atlas I computer at the Science Research Council's atlas Computer Laboratory was closed down last week after more than eight years service. In the closing ceremony Sir Brian Flowers, chairman of the Science Research Council, switched the Atlas off after Professor David Howarth, who wrote the operating system for the computer, had run the last programme.
Atlas's work has now been taken over by an ICL 1906A, which was installed in 1971. This computer is some three times faster than Atlas.
Atlas was designed at the University of Manchester between 1957 and 1961 by a team led by Dr Tom Kilburn. Among the features that made it one of the most advanced machines in the world at the time were a number of facilities that have since become standard such as its permanent master programme and paged store.
The Atlas was ordered in 1961 and installed between 1962 and 1964. For its day it was fast. Simple operations such as addition took about 2 microseconds, and it could solve 100 linear equations in about 10 seconds. Since Atlas was built, however, machines 20 times faster than Atlas have been introduced.
Now that it has been switched off, what is to happen to the computer? The answer is that bits of it will find their way into museums all over the world and the rest will be sold for scrap. Dr J. Howlett, Director of the Atlas Computer Laboratory, said this week that if some university could install and run it we could probably give it to them but the problems of moving and maintaining such a large and comparatively ancient machine are enormous. ICL's contract to maintain Atlas expires next year, and finding spares for the machine, it it goes wrong, is likely to be a problem soon. The Atlas Laboratory intends to keep the front end processor with its 100 million character disk, as this is a self-contained unit and a couple of the Ampex TM2 1 inch tape decks may stay in use although nominally they are obsolete. The Chilton machine is the last but one of the six Atlas computers built to be scrapped. Only the Atlas at the Department of Trade and Industry's computer Art and Design Centre at Cambridge is still running.
During its eight and a half years' operation the Atlas has been available 97% of the time and has handled 836,000 jobs valued at £10.8 million. More than 2,300 university projects have been put onto the computer. Sir Brian said during the ceremony that the SRC is currently considering the successor to the ICL 1906A. The problem is one of trying to predict the needs of scientists and then finding a machine that will do the job rather than choosing a machine then seeing what can be done with it.
Heuristic search applied to Archaeology
Computer Weekly: 24.05.73
Seminars on heuristic search by computer and its application to the interpretation of archaeological data and computers and archaeology are being organised at the University of Kent at Canterbury on June 11 and 12 respectively. The speaker at each seminar will be J Doran of the Atlas Computer Laboratoy.
Council meet at Atlas Laboratory
Quest: May 73
The Council paid a visit to the Rutherford and Atlas Laboratories in May. Pictured are Professor S F Edwards, FRS, Chairman designate of SRC, Dr G H Stafford, Director RHEL, Sir Brian Flowers FRS, SRC Chairman, and Dr J Howlett, CBE, Director ACL.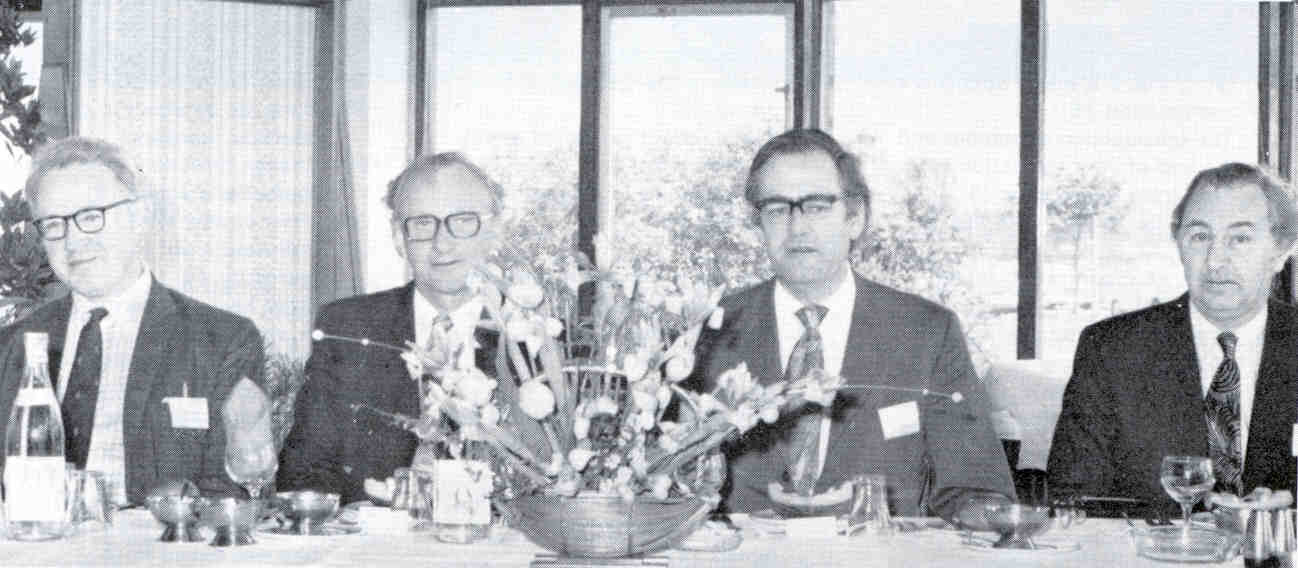 Computer chess 'far more than a game'
Didcot Advertiser: 24.05.73
COMPUTER CHESS techniques can be used to solve many kinds of problem, said Mr A. G. Bell, a computer programmer at the Rutherford High Energy Authority, Chilton on Monday.
Mr Bell was speaking at a one day meeting at the Atlas Computer Laboratory, Chilton to discuss various aspects of computer chess.
He said that computer chess was far more than just a game. You can use computer chess to solve unlimited everyday problems he went on.
The systems used in this field were closely tied up with research in artificial intelligence. But the main drawback was to get researchers. to submit their problems to computer programmers.
We are trying to get people with knowledge to set us problems. and we will solve them. We need more ideas and more suggestions on how to use computers more effectively, said Mr Bell.
We want to combine the efforts of computers and researchers.
Among those who spoke at the meeting. which was attended by some 60 people from the computer world, was Dr A Bond of Queen Mary College, London University who elaborated on computer chess and psychology.