Jump Over Left Menu
The ICL Technical Journal: Michael Kay
Good evening. It has been wonderful for me to hear so much about Jack this evening that I never knew before. Jack was always talkative, but he wasn't one to talk about himself, not even about his professional achievements. He never reminisced about the past, and his thoughts never seemed to turn inwards. So tonight has been a unique opportunity for me to fill in the gaps in what I knew about him, to find out things that he was far too modest to tell me himself.
When Jack retired, he took on the job of creating and editing the ICL Technical Journal, a brand new publication designed to convey the achievements of ICL's engineers to a wider audience. Its Jack's involvement in the ICL Journal, and mine, that brings me here tonight: Vic Maller, the current Editor, asked me to stand in for him, which it is a great privilege to do.
Getting the Journal established in ICL was a monumental achievement. Jack wasn't an ICL insider: he had to persuade the technical people to write for it, he had to persuade the management to keep funding it, he had to persuade the sales force to get it out to the customers, and he had to persuade the marketing folk that he wasn't undermining their latest advertising campaign. He had to do all this without sacrificing the integrity and quality of the publication. He had a very strong vision of what the Journal should be: a serious publication worthy to take its place on the shelves of a University Library, at the same time a promotional vehicle for ICL to demonstrate its engineering achievements to the world; a journal that existed for the benefit of its readers but also a training ground for its authors. The fact that the Journal still exists more than twenty years later shows just how well he cucceeded - not many things in the computer industry last that long.
How did he do it? Mainly, I think, by charming everyone. He had a way of making you feel appreciated, of seeing things from your point of view, and quite simply of making you want to help him achieve his objectives. There have been plenty of occasions when I've had Jack apply his red pencil to my excess verbiage, or ring me up to remind me of deadlines, but he had a way of doing it that always made me feel privileged to be working for him.
Jack's contribution to ICL was recognised last year when we awarded him membership of the ICL long-service club. Achieving 21 years' service when you only started at 65 is a rather unusual feat, to say the least, so we decided to bend the rules and make it a double majority - 21 years for him and 21 years for the Journal. Really, I think we should have invented a special category just for him: I doubt that anyone else will ever equal his record.
I think there are two things about Jack that stand out in the memory: firstly his intellectual appetite, and secondly his modesty. It's a very rare combination.
Whenever he came into my office I knew that his head would be full of ideas and that he was about to distract me from the urgent business of the day with his latest line of intellectual enquiry. He had obviously singled me out as someone who was obviously very easily distracted. The way he kept abreast of new ideas in computing was really quite outstanding. I have Jack to thank for introducing me to one of the best books ever written on object-oriented databases, which was the subject I was interested in at the time. I wouldn't have come across the book otherwise, because it was written in French. It was an excellent book, and his translation was even better. His only problem as a translator was that he found it very hard to resist improving on the original.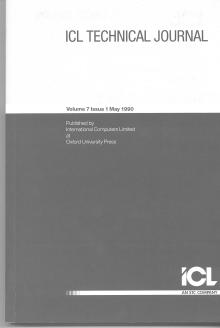 But however sharp his intellect, Jack never had his head in the clouds. He was thoroughly practical. He didn't mind doing mundane jobs, sorting out the mailing list, chasing subscriptions, even stuffing envelopes if that's what needed doing. He did these things with pleasure, effectively and efficiently and without a murmur of discontent, and he took delight in finding better ways of doing them. He kept doing these jobs after he handed over the editorship to John Pinkerton, a handover which itself was an object lesson in how to provide support to your successor without ever becoming a thorn in the side.
It was a great privilege to work with a man whose mind was so lively, whose enthusiasm was so infectious, who never put himself first: Jack was a great friend and a true gentleman. We will miss him.
Some of Jack's Retirement Publications
N. Metropolis, J. Howlett and Gian-Carlo Cota

A History of Computing in the Twentieth Century. 1980

Rene Moreau

The computer comes of age: the people, the hardware, and the software. 1984

F. Andre, D. Herman, and J.-P. Verjus

Synchronization of parallel programs. 1985

Maurice d'Ocagne

Graphical and Mechanical Methods for Simplifying Calculation. 1986

Andre Schiper

Concurrent programming : illustrated with examples in Portal, Modula-2, and Ada. 1989