Jump Over Left Menu
Chilton Atlas Closure
Atlas closed on Friday 30th March 1973. Before introducing the three distinguished guests who would participate in the closing ceremony, Dr Howlett said how touched and delighted he was by the number of people who had come along.
Basil de Ferranti talked about the Atlas project. David Howarth ran the last program. Sir Brian Flowers switched the machine off.
Basil de Ferranti reminisced about the start of computer work at Manchester and recalled the early interest shown by Sir John Cockcroft. Speaking about the facilities available on Atlas, he remarked that these had only been caught up with by you know whom during the past 12 months. He closed by saying - It will be enough for any of you in the computer business to say - I served with Atlas.
Sir Brian Flowers, Chairman of the SRC, before pressing the button to switch off Atlas for the last time said, I am now about to conduct the computer, not the Lab, across the river Styx. He had previously expressed his thanks for the invitation to attend the Atlas wake. He was delighted that Lady Cockcroft could be present and a special welcome for Gerry Pickavance, the father of the Chilton site.
Before the final button pushing, David Howarth, who led the team who wrote the Supervisor, gave an amusing talk concluding by saying that he was about to run the last program on Atlas which was also the very first ever run. The only difference was that he had removed one adjective. He then proceeded to load the paper tape, watched keenly by Lady Cockcroft, Mrs Pickavance and Dr Pickavance. The final program (without adjective) was - It works - and about time too.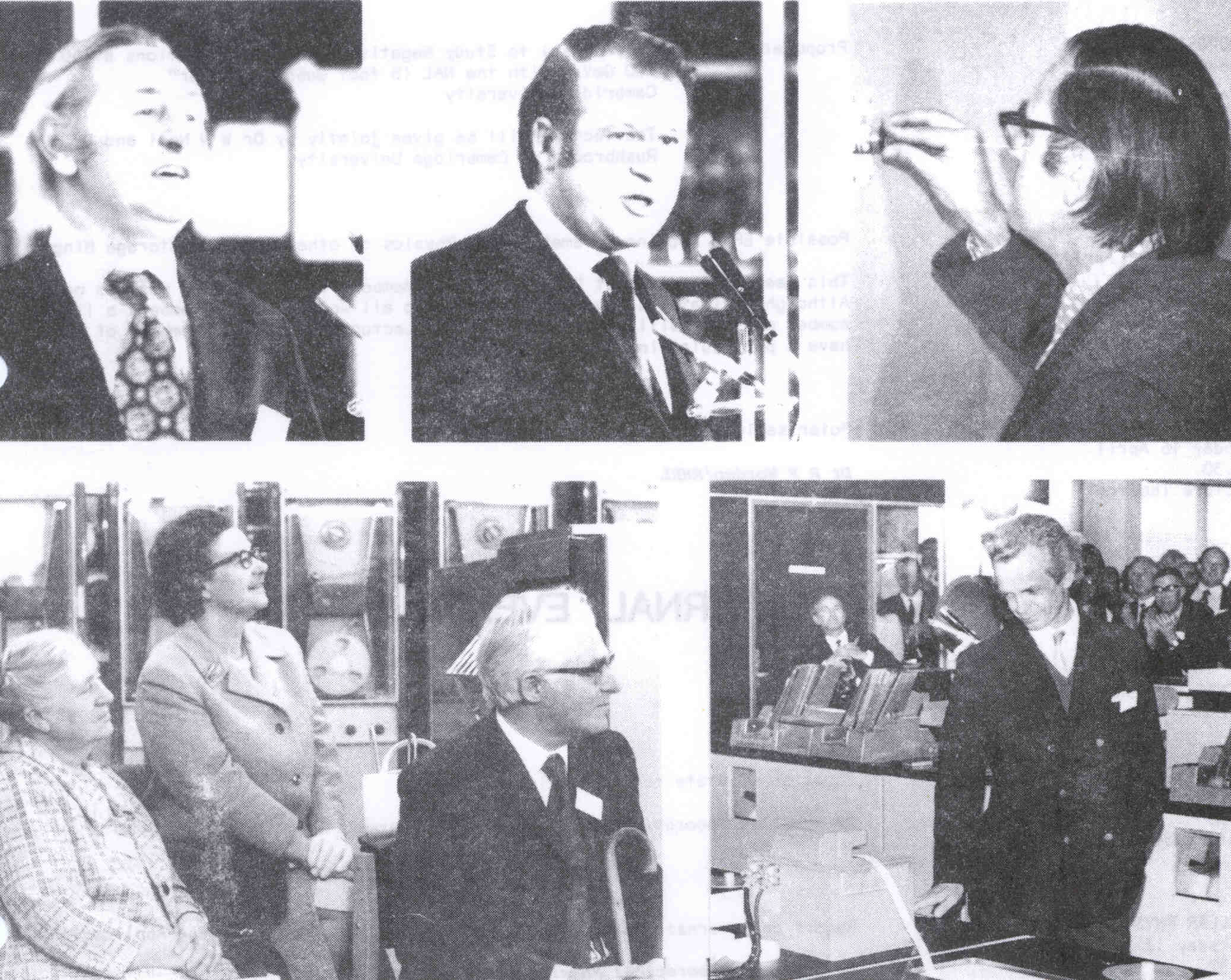 Since the service started in May 1965, it had run for 44,500 hours with a 97% up time.
836,000 jobs were run, 300 Million cards read, 4000 Million characters from paper tape read, 800 Million lines of lineprinter output generated, 17 million cards punched.
The ceremony was well attended by both staff and users.
Mike Delves, Gill Keats and Joe Roberts (partly hidden by Jack) are in the front row. Between Mike and Gill is Susan Hockey one row back and to her left and behind Mike Delves is Don Russell. To the right of Jack with arms folded is Lorna Claringbold with Eric Thomas to the right. Behind Lorna and Eric, between them, is Peter Kent. To the left of Peter Kent is Sue Gill. Who else can you recognise?
It worked. . . but now it's had its time too
Quest
'It works and about time too'. Historic words in the world of computers, for they were the first program run by Professor David Howarth and his team as a simple test routine on the line printer of the original Atlas computer. Appropriately it was David Howarth, now Head of the Institute of Computer Science at London University who used those words again to run the final program in the computer when it was shut-down after eight years of service by SRC Chairman, Sir Brian Flowers, on Friday, March 30. An invited 'family gathering' of many of those who had been associated with the machine since its inception, watched the ceremony. Introducing the speakers, Director Jack Howlett referred to the presence of Lady Cockcroft, to Dr Pickavance 'father of the Chilton site' and to Basil de Ferranti, who represented the original Atlas manufacturers and later amused the audience with anecdotes of early Atlas days.
Before pressing the close down button, Sir Brian pointed out that he was closing down a computer and not a Laboratory! In future the Laboratory would provide a more specialised service for specific projects rather than continuing its earlier role of topping-up the computing power of the universities.
Now parts of the machine will depart - some, no doubt to the breakers yard but others to immortality in the Science Museum.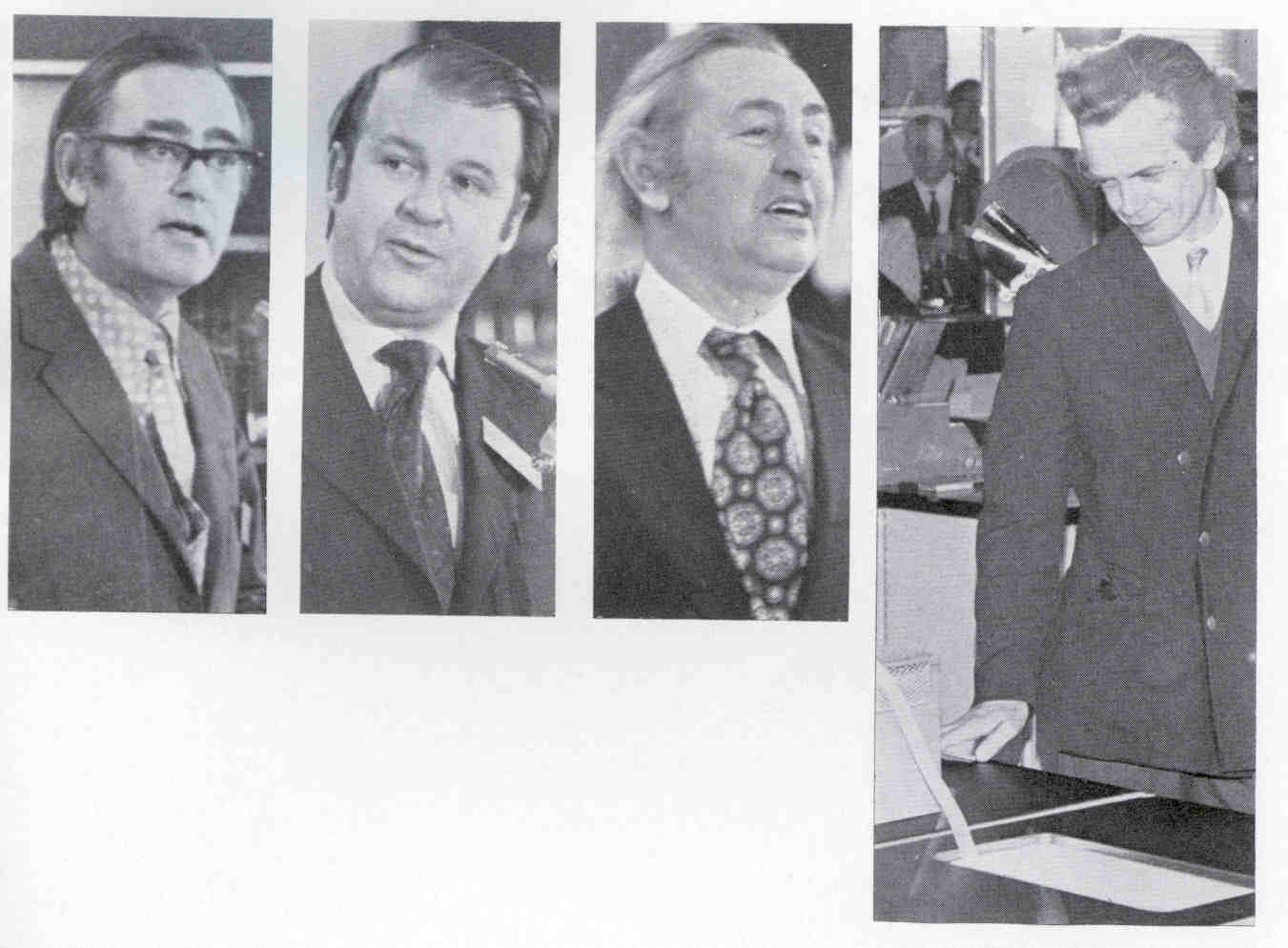 Attendees at the Atlas Closure
J Ainsworth, ICL West Gorton
Professor K W Allan, Oxford Univ
J H Aram, RHEL
I L Arnison, SRC
A C Ashbury, RHEL
Professor J T Ashford, Univ Exeter
H H Aylward, Keystone Press Agency
A R Bagshaw, ICL
Philip Bailey, Data Processing
Mrs E A Baker, East Ilsey
C Balderson, Didcot
Mrs D E Baston, Wantage
M H J Baylis, CDC
Ronald Bedford, Daily Mirror
A G Bell, RHEL
Mrs M V C Bennett, Didcot
G A Blackman, ICL
R G Bond, ICL
P Bowles, TRHEL
Mrs P Bridgeman, Swindon
A J Brook,ICL
F Brown, Electronic EWeekly
P S Brown, ICL
Professor R A Buckingham, ICS, London
J W Burren, RHEL
F H Bushby, Met Office
K H Choate, Director of Works, Surrey
Professor R F Churchhouse, Cardiff
T OP Clark, Wantage
Lady Cockcroft, Cambridge
E H Cooke-Yarborough, Harwell
A B Copper, ICL
Dr B E Cooper, Wantage
C G Crowfoot, Bedfordshire
S J Dawes, ICL
Peter Dean, ICL
Professor Mike Delves, Univ Liverpool
Mrs E M Dennis, Bicester
Cedric C Dickens, ICL
P B Dunthorne, Abingdon
E Evison, Wantage
Basil de Ferranti, Ferranti
Sir B H Flowers F R S, SRC
S E Fowler, Didcot
E R Friedlaender, Wembley
Mr and Mrs C P Gill, Radley
T N Gover, Abingdon
Dr I P Grant, Oxford
F P Greenway, ICL
E Grundy, ICL
G E Hackman, ICL
Gordon Haley, ICL
P D Hall, ICL
P J Hallowell, RHEL
The Earl of Halsbury, London
Allan Hancock, Harwell
G M Harbert, Harwell
Suzette Harold, Oxford
W H J Hayes, Lambourn
Roy Herbert, London
Dr W E van Heyningen, Master St Cross
Norman D Hill, ICL
J C Hipwell, Computer Weekly
Dr S H Hollingdale, Univ Birmingham
R B Horn, RHEL
Professor D J Howarth, ICS, London
Brenda I Howse, Univ Birmingham
F W Howson, Harwell
A L C Humphreys, ICL
H Hurst, RHEL
F W Hyde, London
A J Jefferies, RHEL
Michael Jeffries, Evening Standard
C Joliffe, Richmond
M H Johnson, Ferranti
Alan Jones, St Cross
K W Jones, Oxford
Peter Jones, CDC
J V Lawler, RHEL
A J Lunney, Harwell
Edwin S Mack, ICL
A Mackrill, RHEL
R Malik, London
G Manning, RHEL
L Massey, SRC
R C F McLatchie, Harwell
S H Michael, East Hanney
H J Millen, UKAEA
Ian Mills, NE London Poly
O S Mills, Manchester Univ
Miss S I Milne, RHEL
T Molyneax, RHEL
C Monthienvichienchai, BBC Thai
Pat Nickson, RHEL
R D Parslow, Brunel
P M Payne, Cancer research
P G Pickett, ICL
G N Pickles, RHEL
D J Price, RHEL
Dr I C Pyle, Univ York
Mrs J M Read, RHEL
H Richardson, ICL
Colin Riach, BBC TV
Dr E C Roberson, Barnes
M O Robins, SRC
L Rollinson, ICL
Margaret Rowe, Harwell
Dr D R Russell, Didcot
G B Russell, ICL
Mrs H Salmon, Harwell
A R Seager, ICL
A F Shephard, Harwell
R L Short, ICL
Professor K Smith, Univ Leeds
Professor P M Stocker, Univ East Anglia
Professor F H Sumner, Manchester Univ
B B Swann, London
Dr R Taylor, RHEL
Mrs J M Thomas, Grove
Mr V G Thorley
Dr J J Thesher, RHEL
N Timmins, Nature
Miss M S Timpson, RAE Farnborough
D Travell, ICL
G L Turner, Univ Bath
Dr J M Valentine, RHEL
K P Varney, Harwell
W Walkinshaw, RHEL
Peter Warn, Geneva
M T White, Abingdon
Dr C M Wilson, ICL
D Williams, RHEL
David Wilson, BBC
Mrs J A Wilson, Wantage
M J Hambelton, Oxford Mail
Ted Smith, Oxford Mail
Where Atlas Went
The largest recipient of the Atlas hardware was the National Museum of Scotland (NMS). On 1 June 1973, the Director of NMS, Dr A G Thomson, wrote to Dr Howlett saying that they were setting up a collection of computers and would like to preserve a significant portion of the machine intact. He made the profound comment that the rapid rate of technology obsolescence in the computer field has meant that there is a real danger that many important machines may not be preserved within adequately safeguarded collections, and in particular that only small portions of larger machines may survive. As a result of this letter, a substantial part of the Chilton Atlas was delivered to NMS and is still there today (September 2013). Simon Lavington has spent a considerable amount of time working with the museum to establish what parts of the Chilton Atlas are there and has produced a report of his findings.
Members of staff and people who were connected to Atlas in various ways received small donations listed below.
The large set of Ferranti Supervisor and related Manuals were donated to the Computer Museum which was located in Boston, Massachusetts. The museum is now located in Mountain View, California (September 2013) and still holds them in its collection.
| Person | Parts |
| --- | --- |
| ACL | Console |
| Science Museum | 6 circuit boards, drum |
| Bob Churchhouse | Core Plane, Page address register, fixed store |
| Malcolm Bird | Core store, Logic boards |
| Vic Thorley | Core Store |
| Tom Goodwin | Core Store |
| G Russell | 2 Boards |
| Peter Dewar | Ampex Tape Drive |
| A J Crowle | Core Store |
| Smithsonian | Logic Boards, Fixed store |
| St Cross | Slow peripherals, Lineprinter |
| K W Jones | Flexowriter |
| Gordon Turner | Auto Button on Tape Reader, Logic Board |
| Ken Smith | Core Store |
| I Mills | Core Store |
| Simon Lavington | 45 Boards to replace the ones stolen from the Manchester Atlas (35 822, 4 815, 3 851, 1 854, 2 832) |
| Mike Delves | Ampex Tape Deck |
| Eric Foxley | Core Store |
| Peter Hall | Adder board |
| M Smith | Core store |
| A Jones | Core store |
| Keith Jeffery | Core store |
| N M Stephens | Core store |
| Ian Grant | Core store |
| Susan Powell | Core store |
| Royal Scottish Museum | Set of boards (see Lavington) |
| Univ Leeds | Paper tape punch |
| Roger Hockney | Circuit boards, core store |
| Bob Hopgood | Fixed store, page address register |
| Doug House | Board |
| Paul Bryant | Circuit Board |
| Paul Nelson | Core store |
| Eric Thomas | Fixed store brush, board |
| K P Varney | Core store |
| A F Shepherds | Core store |
| John Thewlis | Core store |
| David Green | Fixed store |
| Mike Chiu | Core store |
| Jim Stewart | Circuit boards |
| D I Gosling | Core store |
| Ros Hallowell | Wooden Numbers from tape decks 2 and 5 |
| Susan Hockey | Core store |
| G L M Berry-Roghe | Core store |
| Liz Gill | Core store |
| David Toll | Core store, read only memory |
| Pella Machin | Core store |
| Peter Gill | Atlas Cabinet |
| Peter Kent | Core store |
| Gordon Dawson | Core store |
| Graham Robinson | Circuit board |
| R M Jenkins | Circuit board |
| Jim Hailstone | Circuit boards |
| Eric Walton | Core store, B-store, adder |
| Jack Howlett | Board, Core store |
| John Lewis | Paper tape reader |
| Barbara Stokoe | Fixed store, circuit board |
| Diane Byfield | Circuit board |
| Trudy Trewin | Circuit board |
Dr Howlett's RHEL Bulletin Article: 2 April, 1973
We are extremely grateful to Dr J Howlett, the Director of the Atlas Computer Laboratory for the following article. It is interesting to recall that the bulk of the computing work of the Rutherford Laboratory was carried out on Atlas until we took delivery of the IBM 360/75 in 1967. The many achievements of the Atlas Laboratory can best be summed up by a short quote from the article by Dr Howlett in the current issue of QUEST ; "we set a new standard".
One powerful computer, Orion, has just been installed in the Rutherford Laboratory; next year the Atlas Laboratory will take delivery of one of the most powerful computing systems in the world; CERN is putting a great deal of thought and effort into deciding on its next computer, which it recognises will be a major piece of equipment in the Laboratory.
This was the opening sentence in a front-page article in ORBIT, the Journal of the Rutherford High Energy Laboratory, August 1963. A little further on the same article says .... the National Institute's Orion, which ranks as a medium sized machine, has cost £350,000: the Atlas will cost £2,800,000. That issue of ORBIT had other interesting facts to reveal. My copy - preserved as an historic document - has a sort of stop-press sheet with a reproduction of a telegram to Lord Hailsham, then Minister for Science, with the message: 27TH AUGUST FIRST OPERATION NIMROD STOP MAXIMUM ENERGY 8 GEV STOP INTENSITY AT 7 GEV 10 TO POWER 10. And the Editorial starts The Rutherford Laboratory Restaurant served its first meals to the Members of the Governing Board when they met at the Laboratory on Monday 15th July.
Well, time passes. ORBIT is no more, neither is NIRNS; Orion went in 1966 and Atlas will be switched off for the last time by the Chairman of the Science Research Council at about 3.00 pm on 30 March 1973. But NIMROD is still alive and working and the restaurant is still serving meals, so it is not entirely change and decay that all around we see. And before anyone gets the wrong idea let me say that work has just started on the new wing which is to be added to the Atlas Laboratory building.
Ten years is a long time in computer history. After the various individual university-laboratory machines of the late 1940's, the first engineered computers were built and sold in 1951-52 - the very first, in fact, being the Ferranti Mark I which went to the University of Toronto in 1951 - and it was not until 1955 that real production machines began to become available in anything like quantity. So the whole history of the computer as anything much more than a laboratory adventure goes back only 20 years and Atlas was designed before the half-way point. Like many other achievements of the computer world - Including the Mark I and Mercury computers - it originated in the distinguished group in the University at Manchester led by Dr Tom Kilburn - now Professor Tom Kilburn FRS; in 1971 a lot of people were greatly pleased to hear that the American lEE had awarded Professor Kilburn their W Wallace McDowell medal for achievement in designing and building some of the first - as well as the most powerful - computers in the world.
Atlas was certainly an adventure. It was very fast for its day, but more important, it embodied a number of features which were then quite new but which have since become woven into the fabric of computer design and technology. Probably the most important were the paged store - better known around the world now as Virtual Memory, much as the 8-register for the Manchester Mark later became the Index Register - and the first really comprehensive operating system. This was called the Atlas Supervisor and it was indeed, for its time, staggeringly complex. One very distinguished scientist with whom I was discussing our machine said it was too clever by half.
Of course we had a rough time getting the machine into service - hardware and software faults interacted in singularly baffling ways and at times just about broke everyone's hearts. But it all came out right in the end - in fact, as one saw looking back, with no more pain and grief than has been caused by every early model of every advanced computer. History is solid on this - they all give trouble and practically break their owners' hearts; but they all come right in the end - you just have to keep your nerve.
After having got into its stride Atlas proved a tremendous success; all those fancy and far-out provisions in the hardware and software worked like a charm, and what is more, with outstanding efficiency. A very large number of research workers in British universities were able, because of Atlas, to embark on research projects and to bring them to a successful conclusion which otherwise they could never have contemplated. It was on the basis of about 5 years' work with Atlas that the Meteorological Office were able to show that their proposed 10 level model of the atmosphere, with the effect of water vapour included, could be developed into a weather forecasting system, and to support the case for the 370/195 which is now installed at Bracknell. What is so sad is that so few of these splendid machines were made - 6 in all: yet another of our great British missed opportunities, to my mind.
We are closing the machine down now partly because, as an old machine, it is expensive to maintain, and partly because, although it is still going very well, we can already see signs of trouble ahead. Most of the components are now obsolete and are becoming unobtainable and a few failures could have disastrous effects. So with much sorrow and nostalgia we shall say farewell to our faithful work-horse on Friday. The English poets can be relied upon for fitting comments on any occasion for this, I offer you Wordsworth:
And what if she had seen those glories fade?
Those titles vanish and that strength decay?
Yet shall some tribute of regret be paid.
When her long life hath reached its final day.
Men are we, and must grieve when even the shade
Of that which once was great has passed away.