Jump Over Left Menu
Issue 36: February 1995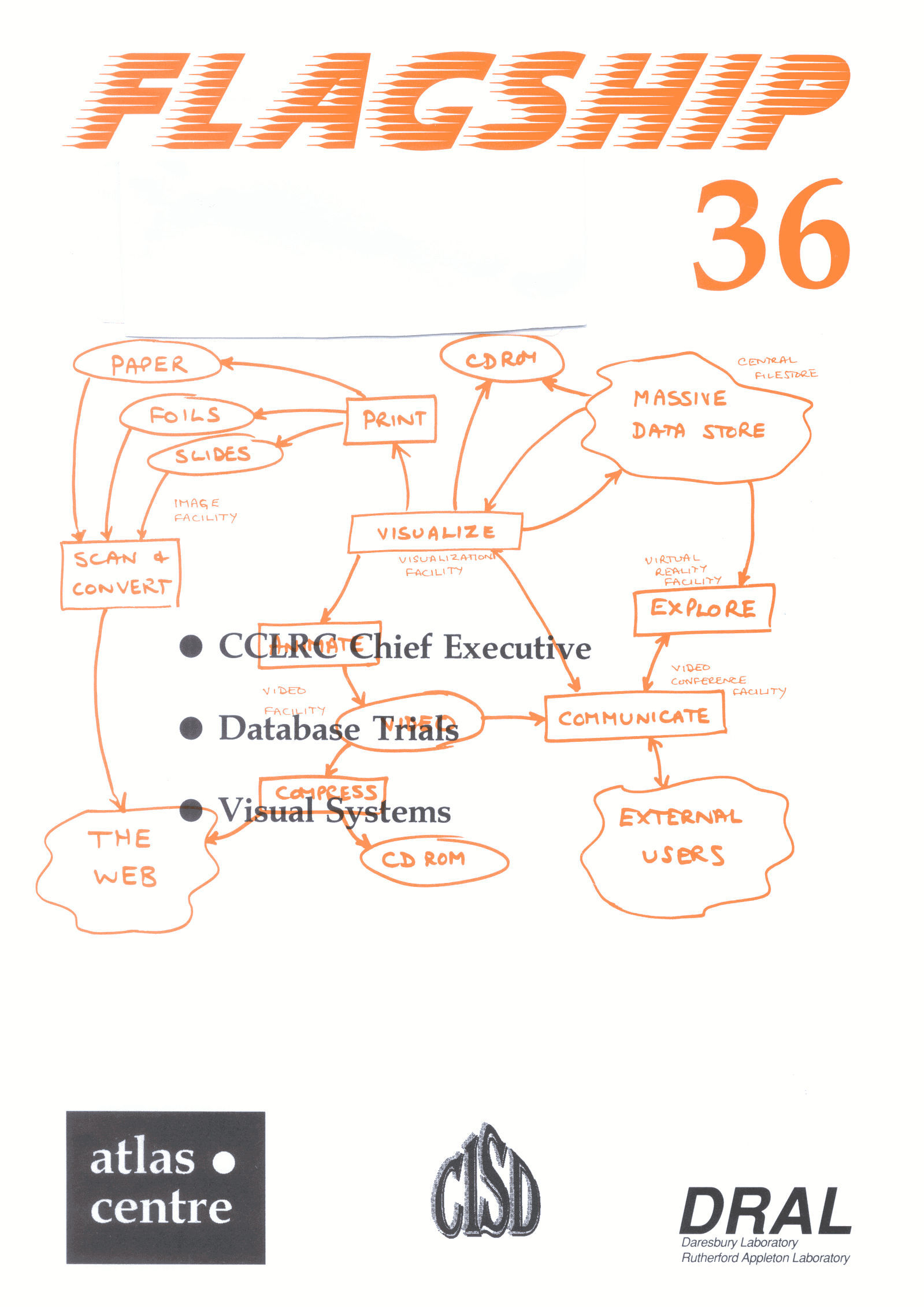 The cover shows some of the facilities being set up in the new Visual Laboratory.
First Chief Executive of the Council for the Central Laboratory of the Research Councils
The first Chief Executive of the Council for the Central Laboratory of the Research Councils is to be Dr Paul Williams, announced David Hunt, Cabinet Minister for Science.
Dr Williams is the current Director of the Daresbury and Rutherford Appleton Laboratories. He will take up his appointment on 1 April 1995 when, subject to the approval of Parliament, the new Council will be established. The post of Chief Executive was filled by open competition, following the announcement by Mr Hunt in October last year.
Welcoming the appointment, Mr Hunt said:
I am confident that establishing the new Council will create the right environment for this major resource of the UK science and engineering base to flourish. It has an important part to play in carrying out White Paper objectives of wealth creation and improving the quality of life.

Paul Williams, November 1993

I am delighted that Dr Williams will be the first Chief Executive of the new Council. His academic knowledge, managerial skill, and high international standing, together with his intimate knowledge of the UK science and engineering scene make him admirably suited to lead the Council. He inherits two excellent laboratories, with a skilled and dedicated team of scientists and engineers. I am sure they will all play their part in making the new body a success.
Dr Williams said:
I am looking forward to the challenge of leading these laboratories into an important new phase in their development. As components of the new Council, their world-leading capabilities will be more accessible to all the UK's Research Councils, and to UK industry. I am confident that the Council is well equipped to play its part in responding to the aims of the White Paper, Realising our Potential.
Dr Williams is a physicist by background and has had a wide and varied career, in the UK and overseas, as both a research scientist and also a manager of significant science and engineering facilities. He is a fellow of the Institute of Physics and is currently Director of the Daresbury and Rutherford Appleton Laboratories.
The Council for the Central Laboratory of the Research Councils is to be established, subject to Parliament's agreement, as an independent body under the terms of the Science and Technology Act 1965 with effect from 1 April 1995. It will be responsible for the two laboratories - the Daresbury Laboratory and the Rutherford Appleton Laboratory - which are currently the constituent parts of the Daresbury and Rutherford Appleton Laboratories.
News Release, Office of Science and Technology
Database Merger
A benefit of the merger of the two computing departments at RAL has been the opportunity to combine the separate database activity from each into a greatly enlarged Data Engineering Group. This covers the range from research through consultancy to implementation and support of production database services. Staff are mostly funded by work for other departments (particularly Administration, Space Science and ISIS), for Swindon or by external contracts. The next few months will be challenging as current database systems on the IBM 3090 are migrated to new platforms for customers. Meanwhile, taking advantage of the merged interests and skills, we are busy preparing with several consortia proposals for participation in the EU's Fourth Framework Programme.
Brian Read, Head, Data Engineering Group
Databases on Trial
Databases are the classic application for the client-server revolution. The user interacts with a Graphical User Interface (GUI) on a workstation which generates a Structured Query Language (SQL) command to send to the database server. This executes the query and returns only the result records across the network for display by the user's workstation.
So how have the traditional database products adapted to this new paradigm? The RAL Data Engineering Group has recently developed a strategy to replace a long and successful dependence on the IBM mainframe database SQL/DS. Starting in late 1993, we organised a trial of alternative database management systems on Unix. With much helpful support from the vendors, we tried out Ingres, Oracle and Sybase. It was not a benchmarking exercise; rather, we wanted to satisfy ourselves that such complex and relatively new systems would actually work properly in our particular environment. We learned a lot! Understanding the various networking layers and protocols of middleware and how they fit together is crucial.
Our conclusion was that all three products were comparably viable, if not ideal. The advent of the merger with Daresbury Laboratory, an existing Ingres user, and the re-establishment of a favourable CHEST agreement have led us to choose Ingres as a Unix database server. However, in parallel we are also pursuing the use of NT on Microsoft SQL Server. This seems better integrated with clients and the price is attractive.
The real potential expense for client-server databases is the cost of software for every workstation. We can achieve much by building application front ends with Microsoft Access and family (Excel, FoxPro, Visual Basic) or even interfaces from a WWW browser. We did look at serious development tools offering CASE, data dictionaries and cross platform portability, but the benefits did not justify paying ten or even a hundred times as much.
Apart from the implementation of enterprise level databases, the Data Engineering Group at RAL is increasingly helping individual users and small workgroups build their own systems. A modern product like Access, though not as simple as a word-processor or speadsheet, can be effective in the hands of the ordinary user, especially if expert advice is sought on database design.
Brian Read, Head, Data Engineering Group
Graphics Group + Visualization Group = Visual Systems Group
With the merger of two RAL computing departments to form Computing and Information Systems Department, the opportunity was taken to bring together groups of people having overlapping interests. Thus Visualization Group in Informatics and Graphics Group in Central Computing have combined to form the Visual Systems Group in the new Department and will work in the Atlas Centre.
Of the two merging groups, one was primarily responsible for providing services and running facilities; the other engaged in collaborative projects with other DRAL departments, EPSRC grant holders and European partners. It is a strength that both these are combined in one group and that we can learn from each other.
The new group will work in the fields of graphics, images, video, visualization, graphical user interfaces, multimedia and virtual reality. This is a wide range of expertise that we believe will add value to researchers in scientific disciplines and their support staff - whether users of the Laboratory's central computing facilities or not.
This article gives a summary of the group's services, facilities and collaborations.
Software on central computing systems
Visual Systems Group has taken responsibility for installing and supporting graphics and visualization software on the RAL central computing systems. These include AVS visualization software, Uniras graphics and visualization software and the Nag Graphics Library. Also supported are RAL's basic graphics software, including ralgks for 20 graphics programming and ralcgm for creating, converting and displaying pictures.
CD-ROM writing
Increasingly, researchers are becoming interested in writing a CD-ROM and this is now possible on a one-off basis. Although it is now easier for individual research groups to purchase a CD-ROM writer, not every group wishes to do this, especially if the usage is only occasional. Visual Systems Group offers a service for writing CD-ROMs. Since this service is new, we invite you to contact us if you are interested. Although the ability to archive a files tore to a CD-ROM is useful in itself, we are also making plans to add value to this by advising how research groups can make attractive visual CDs. For more information on the CD-ROM service, contact David Greenaway or Chris Seelig.
Video facilities
The facility to produce high quality video tapes (the Atlas Video Facility) and the more recently developed Video Conferencing Facility are familiar to readers of Flagship and continue to be developed. Over the last few months, we have been able to increase the staffing level on these facilities, which improves their capacity.
Visualization Community Club
The Visualization Community Club is funded by the Engineering and Physical Sciences Research Council. Although its activities are mainly oriented to the work of that Council at present, its work is also of more general interest and registration is invited from anyone interested in keeping up to date in visualization. To register, contact Virginia Jones.
Plans for Virtual Reality and a Visual Laboratory
The group is making plans for work which will lead to new facilities and services. A virtual reality (VR) facility is being planned. VR has great potential for understanding 3D models which could result from a CAD process. Using VR allows a designer to envisage the details of a complex model - which among other things, helps evaluate it spatially for assembly and maintenance. VR can also help us understand the results of 3D simulations. Although the facility will be installed in the Atlas Centre, we plan that it will be accessed from other points in the Laboratory and envisage that it could also be accessed from outside the Laboratory.
In parallel with the group moving into one place in the Atlas Centre, we will set up a Visual Laboratory, which will allow a user to have access to VR, multimedia, image manipulation, visualization and video facilities. Users will be able to manipulate images, animation and 3D geometry - which could involve digitisation, conversion, output and storage (to the Atlas Data Store, CD-ROM or World Wide Web).
Collaborations
As well as providing services and facilities, the group collaborates with individual research groups. We work with other RAL departments, including Space Science Department, and with groups outside RAL, on image processing, visualization and graphical user interfaces.
The group can work in peer-to-peer collaborations or in the role of technology providers for particular (normally, but not exclusively, scientific) applications. We are open to proposals within our areas of expertise.
Julian Gallop, Head, Visual Systems Group
More Video Conferencing
Since the first article on video conferencing two issues ago, RAL has further expanded its facilities, including more rooms and providing ISDN access. With these new facilities, together with Mbone access, RAL is now able to provide appropriate systems for a large range of video conferencing requirements. These have already been used for a historic relay of the first LHCC meeting, which was seen in Paris, Marseille, Pisa, RAL, Birmingham and Manchester, as well by many people over Mbone. This article explains the changes that have been made to the system and also describes some forthcoming developments.
Styles of Working
RAL has started by concentrating on the meeting room style of working, in which the people go to the equipment. We also decided to centralize the equipment that interfaced the audio and video signals to the network. At the time of the last article, the Atlas Colloquium (in R27), the UKERNA Board Room (in R31) and the Atlas Video Facility had permanent connections to the control centre. Optical fibres have now been installed to the main Lecture Theatre (R22), to the R71 Training Room, the meeting room in R30 and Conference Room 1 in R1. Fibre interfaces are already installed in the Lecture Theatre and two more sets are on order (one for R71 and one free to be used where needed).
Different Networks
RAL started with a single codec (coder/decoder) connected to the SuperJANET ATM Pilot network. This has been used heavily, including eight different meetings one week in December and more than eight hours in one day in January. There was strong pressure to add a connection to the ISDN network and, although the existing (GPT) codec could have been connected to ISDN, the load on the GPT codec was high enough to justify a separate codec for ISDN. In the first week of January, a Philips Titan codec was delivered, which can be used on ISDN or ATM networks.
This codec was given a baptism by fire when it was used for the CERN LHCC meeting relay on January 19, which is described in a separate article.
There has also been a substantial amount of work done towards providing more convenient access to the Mbone. Unfortunately, the system that was expected to provide this service (a DEC Alpha with J300 card) has not proved totally suitable, and the best platform for an Mbone relay is once more under investigation.
Despite this, successful trials on the Mbone have continued, with RAL originating material as well as receiving it.
ATM Network
The SuperJANET ATM network was completed in January 1995, when the last two sites (Cardiff and Belfast) connected their codecs. The complete list is therefore:
Belfast
Birmingham
Cambridge
Cardiff - > Welsh Network
DL
Edinburgh
Glasgow
London Imperial
London UCL - > Livenet 2
Leeds
Manchester
Newcastle
Nottingham
RAL
ISDN Network
In the week before Christmas, we took part in experiments that interlinked ATM and ISDN networks. At that time, RAL connected to UCL in London over ATM and UCL onward-linked to the Australian National University in Canberra over ISDN. For the LHCC meeting relay, the role was reversed, with RAL taking the feed from CERN over ISDN and relaying it to the UK sites over ATM.
The Philips codec allows use of ISDN bandwidths up to 384 Kbit/sec, so providing interworking capability with the vast majority of national and international ISDN video conference systems. Tests with other UK sites (including RGO and ROE) and other international sites (such as the ERVN network in the US) are in progress at present.
Developments
With about six rooms at RAL now suitably connected for video conferencing, and with ATM, ISDN and Mbone network connections available, a wide range of possibilities exists. Interconnection between the networks is provided via analogue signals, solving any problems of the networks working at different speeds.
Multipoint control units (MCUs) which extend the systems from merely point-to-point communication to multi-site conferences, are available on the SuperJANET and ERVN systems, and other MCUs are being investigated for European multi-site conferences on ISDN.
Fully interactive meetings with up to eleven sites have now been run on the SuperJANET ATM network, although this showed up some of the problems of having such a large number of sites all making noises (not necessarily talking!) at the same time.
Work is now in hand to convert the R71 Training Room into a permanent video conference room. This will considerably reduce the time and effort required to set up a video conference, since all the rooms currently used are multi-purpose rooms. The R71 room will be the default room for video conferences involving no more than twelve people at RAL.
We are also considering the construction of a roll-around system (single monitor, camera, microphone) which can be plugged into any fibre outlet in the laboratory, since such outlets are now much more common.
Booking Arrangements
Organizing a video conference is very like organizing any meeting in a meeting room, except that two or more rooms and the link must all be booked. DRAL staff can organize meetings using the RAL and DL sites and any of the other sites on the ATM network. To use the system, you need to contact your ATM network site person; at RAL this is Chris Osland or Peter Girard; at DL this is Network Support. You will need to tell the organizer which sites you are going to link to and which rooms (or what capacity rooms) are needed at each site.
Chris Osland, Atlas Video Facility
Obituary: Harry Hurst
Harry Hurst was Computer Manager of Computing and Applications Division of the Rutherford Laboratory from 1965-80.
Harry was born on the 13 December 1915 and attended Glossop Grammar School and Technical Evening Institute before taking a course in Printing and Photographic Technology at the Manchester College of Technology. He started work in newspaper production and printing, holding jobs as sub-editor and linotype operator. In 1940 he joined the Forces, initially as an NCO instructor with the Infantry. He was later commissioned and transferred to the Royal Army Pay Corps where he held various posts as Cashier and Paymaster in the Middle East, Far East and Germany.
From 1960-64 he became involved in Automatic Data Processing and was trained in systems analysis and program development with the introduction of automated accounting in the Pay Corps. In 1963-64 he was responsible for the installation, commissioning and operational use of two IBM 705s.
In 1964, he resigned his commission and joined the staff of the Rutherford Laboratory (NIRNS). At that time, computing for High Energy Physics (mainly bubble chambers) was in a precarious position. For more than a year there was no suitable UK source of computing and parties of physicists and computer staff had to go to Darmstadt in Germany. Harry was given the job of organising the logistics of this difficult exercise. His army experience was of great value and he was one of the people who helped to keep physics and computing alive during those trying times.
Harry took over the operational management of the Orion computer in 1965 and from mid-66 he was responsible for planning the installation and commissioning of the IBM 360/75. As computer manager he was also responsible for recruiting and training operational staff to cope with the multi-shift system and the growing involvement in a variety of complex on-line equipment.
Outside the Laboratory, Harry took a very active role in the SHARE European Association (SEAS), the large IBM mainframe User Group. He became a member of the executive board and eventually was elected President. Through this role he became known and respected throughout IBM data centres in Europe and built up many contacts in the United States during his visits to SHARE conferences. He was widely regarded as one of the top computer managers in Europe.
In 1971 the 360/75 was replaced by a 360/195, one of the most advanced scientific computers of its time. Perhaps Harry's most challenging role came in 1976-77 when he was responsible for the transfer of the 195 and all the Rutherford computing infrastructure to the Atlas building, at the same time installing a second 195 and integrating the operational staffs of the IBMs and the ICL 1906A into a coherent team. Although now near the end of his career, Harry's enthusiasm never dimmed and he was heavily involved during the last three years in the decommissioning of the 1906A and installation of an IBM 3032 to front end the dual 195s plus a UNIVAC 1108 and many PRIME/GEC multi-user workstations.
Harry retired on 31 December 1980 but he still retained his interest in SEAS, acting as its publicity officer for many years. Harry had many other outside interests too, but perhaps his greatest love was tennis which he carried on playing until a few months before his death on New Year's Eve, exactly 14 years to the day after his retirement. Harry leaves two sons, a daughter and several grandchildren. When he was diagnosed as having cancer last year, he and his wife, Dorothy, moved from their long-term home at Grove to a flat in Winchester to be nearer their family. His funeral was held at St Peter's Church in Winchester on Friday 6 January and was attended by several of his former colleagues from the Laboratory. He will be sadly missed by all his family and colleagues alike.
Tim Pett, Head of Marketing Group
A Personal Tribute to Harry Hurst
It was as the IBM 360/195 was expanding to full five-shift cover, in 1972, that I joined Harry Hurst's team of computer operators. In those days, I was somewhat vague as to Harry's exact place in the RHEL hierarchy (he was Computer Manager). All I needed to know was that Harry was The Boss as far as the computer was concerned. A tough boss, without doubt, but as I was to find out, a very fair one. One could not be unaware of his military background, and like the best of officers, he had the welfare and careers of his men very much at heart. I was one of many young operators who probably owe our careers to Harry, having passed out of his training college, and gone on to systems programming or similar activities.
After Harry retired, I was able to keep in touch with him through the SEAS (later SHARE Europe) IBM User Group, of which Harry was a founder member and stalwart supporter, well over and above the call of duty. He was always keen to hear news of RAL, the central computers, and especially the people who had worked for him and with him. Harry naturally commanded respect and loyalty, but also great affection. Beneath a sometimes gruff exterior, he concealed a heart of gold and a wonderful generosity of spirit.
Although he was approaching eighty when he died on New Year's Eve, many of us were shocked, as well as greatly saddened, to hear of his death. He had always seemed robust to the point of indestructibility. On Friday 6 January at St Peter's Catholic Church, Winchester, we said a last Morning Prayers with Harry. Although it was a sad occasion, we remembered, and were inspired by the man who was an example of how to work hard, play hard, and give it all you've got.
Mike Ellwood, Systems Group