Jump Over Left Menu
Issue 38: July 1995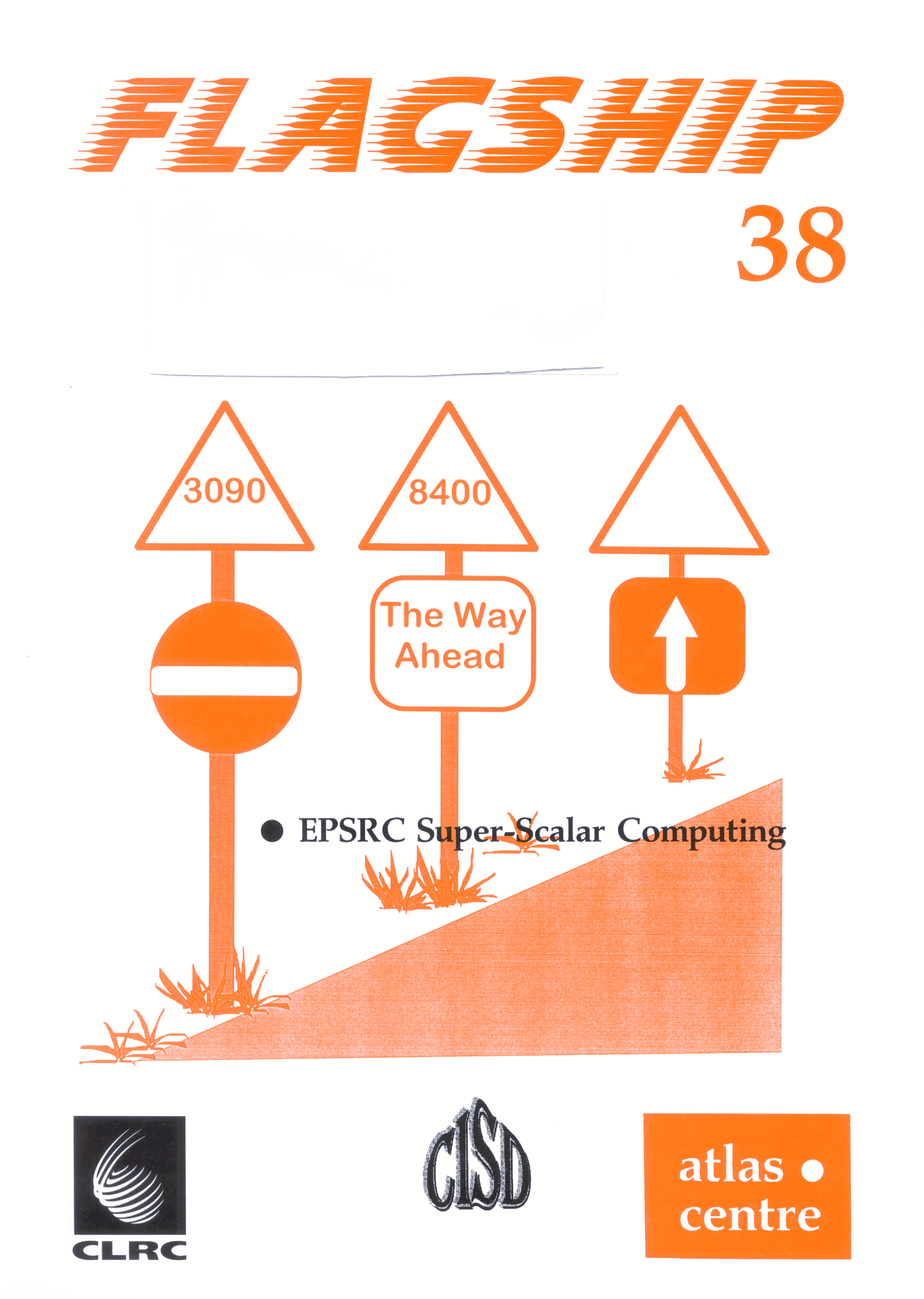 New EPSRC Super-Scalar Computing Service
We are delighted to announce the provision of a major new computing resource at the Atlas Centre. A Digital 8400 super-scalar computer with six of the latest EV5 Alpha processors and 2 GByte memory forms the basis of the new EPSRC Scalar Computing Service. The EV5 Alpha processor is substantially faster than previous versions of the Alpha and has a theoretical peak performance of 600 Mflop/ s corresponding to two floating point operations each cycle of its 300 MHz clock. The six processor system has a notional peak performance of 3.6 Gflop/s (compared with 2.7 Gflop/s for the Cray Y-MP8) and can out-perform the Y-MP8 on several important applications.
The 8400 should be delivered shortly and will be introduced into service around 1 September 1995. Access to the machine should be possible soon after delivery for the purposes of porting, testing and evaluating performance. Disk space on the new machine is still being determined but should be in excess of 150 GBytes. The 8400 will run Digital Unix (formerly known as OSFl) which will be familiar to all Unix users.
A wide range of language compilers and numerical libraries will be available. The 8400 will support the usual interactive services and will manage batch queues through the familiar NQS software. If you intend to use the new machine and require a particular application code then please contact us so that we can prioritise the limited application budget.
Anyone who is eligible for EPSRC research grant support can apply for access to the new machine. If you would like to evaluate the performance of the 8400 and assess its suitability for your research needs, then pump-priming time of 20 CPU hours over six months can be obtained by filling in the form AL54, obtainable as a Level 2 PostScript file by Anonymous FTP from unixfe.rl.ac.uk in pub/doc/supercomputing/a154.ps or from Gill Davies at the Atlas Centre. The completed form should be returned to Margaret Curtis at the Atlas Centre. A full grant allocation on the 8400 should be requested using the EPSRC form EPS(RP) together with the AL54, sent to the relevant EPSRC program manager.
If you currently have an EPSRC grant to use any of the vector processing facilities provided as part of the national High Performance Computing Service and you think the 8400 may be more appropriate for your computing needs, you are encouraged to use the pump-priming route to evaluate the 8400 and then contact Alison Wall about the options for obtaining time on the 8400.
Roger Evans, Head Advanced Research Computing Division
Alison Wall, Computational Facilities Programme Manager, EPSRC
Third International WWW Conference
The conference took place at Darmstadt, Germany on 10-14 April 1995. The aim was to have 800 participants. In the event nearly 1400 turned up which caused some difficulties getting into sessions with the main auditorium only holding 800! Even so, organisation went reasonably smoothly. I will not try and give an overview of all the papers that I attended. However, I will try and give a view of the things that are not in the Proceedings.
Workshops
Kiosk Workshop
There were presentations followed by some discussion:
Layout Issues: this was a presentation from Jan Borchers describing a system developed at Karlsruhe University for campus use. He pointed out the lack of control of the layout in HTML, which made it difficult for kiosks where the user interface is particularly important. Some of this is solved in HTML 3.0 (tables, text around pictures, maths, etc) but there is still no control of colour, in-line videos or time-based control.
Using Existing Products: SFI in Zurich had added a Filtering Proxy between the client and the server. The user interface with the kiosk was controlled by the Filtering Proxy. It fielded all responses from the server and interpreted them for the kiosk. Thus the kiosk never got error messages and was not allowed to get at pages that were not authorised. It seemed a good idea that worked reasonably well.
Digital's Kiosk Products: Digital have a system that is mainly aimed at banks. There were a couple of possibilities for enclosures, allowing both a keyboard and a mouse to be attached, however, screen size was quite small. The printer which ran at 10 pages/minute, had a fast warm up time (so was switched off when not in use), and could print all the pages for a session in one go at the end. They had a 48 degree privacy screen which may be necessary in banks. Its big draw back was that it was difficult to demonstrate to more than one person at a time! They had a card reader that allowed a range of card types to be used including phone cards. The system would be installed in the Swedish Post Offices. There is a news group on kiosk issues (comp.infosystems.kiosks).
Commercial applications of the Web
The ERCIM Workshop in the afternoon was well attended. Thomas Baker of GMD had lined up a good range of speakers.
Commercialisation overview: GMD gave an overview. There are 3911 commercial Web sites in USA and 161 in Germany. The growth in the USA is 30% a month while it was only 20% in Germany. The number of new sites in the USA each month will always be greater than the number in total in Germany! The non-IT users in the USA were considerable whereas nearly all the European use was IT-related.
The main things missing are security, payment methods, delivery, navigation, corporate design and integration (this was echoed throughout the week). On security, it was pointed out that the USA used 1024 bit keys while the systems shipped to Europe only had 40 bit keys.
Deutsche Welle: this is the German equivalent of BBC Overseas or Voice of America. They had put up some Web pages as a test. On an average day, 10,000 users access their news pages. On election night, they had 65,000 accesses. It was meant to be a pilot but after two weeks they had decided it was a major part of their service. Unlike others, they see it as a major news dissemination method and translate all their bulletins into several languages.
GT-Online: this is a Web-based research bulletin produced by VTT, Finland for the Graphics Art Industry. They produce 8 bulletins, 4 special reports each year, initially on paper and about 100 companies pay £1000 to subscribe. The motivation for going to the Web was to increase the number of people in the company that could read the publication from two or three to fifty.
Grif Symposia: probably one of the main things at the Conference was the Grif Symposia Web Editor. The head of Grif announced it at the ERCIM workshop. It looks really nice with the ability to edit Web pages in their WYSIWYG form. Links are activated as soon as they are created and can already handle HTML 3.0 tables.
Conference Opening
Detlef Kromker opened the conference proper. He pointed out that it was being transmitted on the Mbone, which was the reason for about four helpers sitting at terminals relaying people's slides etc to Wagga Wagga, London, Moscow, Washington, Brown University etc. Walter de Backer, DG XIII, was the keynote speaker. He repeated what had been said at the W3C launch the previous Friday. The Commission are right behind the Web and W3C.
Enterprise Panel
I went to a few panel sessions that do not appear in the Proceedings.
This one had a set of speakers saying what they were doing on the company side of the firewall.
Siemens
Siemens have about 190 companies world-wide with a revenue of 90 billion Marks. They were using the internally for storing business processes, documentation, code, and shipping software products. They have an overall company top-down design with variation allowed at the bottom to accommodate local needs. They still believed a lot of changes were needed in areas of quality, reliability, density, security, integration with workflow, trace ability of effectiveness.
Sun
They have 3000 servers and use the Web to send out their list of suppliers to all the branches. It has reduced costs from £500K to £15K.
Boeing
The best talk was from Boeing. They have no pages outside the firewall but intensive use within the company. He made the point that if you wanted to see how the Web was really being used, the place to look was in big corporations inside the company. Their principles were:
Encourage personal investment in the Web
Promote healthy competition within the company
Provide open access to the Web within the company
Empower non-traditional users.
They have put Mosaic browsers in the homes of all senior managers. The janitor, the traditional source of gossip in Boeing, now has his own pages! There is a commitment to putting all the aircraft information on-line either by connections to external pages or to mounting it themselves. Thus major journals like Aerospace Daily are put up by Boeing. They currently have 10,000 users on 200 servers with a 25% growth in usage per month. What was important was providing good support. PCs, when delivered internally by PC Support, came with Mosaic installed, hotlists, guidelines and templates. They saw the big challenge in the immediate future was to get management to accept the current chaotic situation. They are trying out many new ideas and it will take a while to settle down. They are using several different authoring tools, trying different approaches to security and distributed information management. They needed experience before they fixed the company's policy.
Mitre
The speaker even had his number plate personalised to Web Surfer. The major difference at Mitre was the range of word processing systems they used. They had introduced a staging area which took WordPerfect, Word and Framemaker documents and intelligently turned these into Web pages.
Discussion
The best parts of the discussion came from answers by the person from Boeing. The top and bottom of Boeing were committed to using the Web as a management tool of major importance in the company, the problem was the middle layer of legacy managers who saw erosion of their power base. Mitre had put a question on their yearly review which asked if employees were ensuring that the Web pages they were responsible for were up-to-date.
Windows95 and the Web
This was an invited talk from Microsoft that had the main auditorium bulging at the seams. The Microsoft Web is at www.microsoft.com with WinNews giving information on Windows95. This was an upbeat presentation - new shell, new kernel, MS-DOS is gone, major features are Win32, built-in networking, plug and play, long file names and short cuts. All APIs will interface to Win32. This is the biggest launch in the history of software with 50,000 beta testers and a preview programme extending to 400,000 people. The final beta, Build 347, has just been shipped. The demo was with Build 440. The company was still on track for an August release. They will ship in thirty different languages. All major hardware vendors are committed to the product. Over thirty major software vendors are committed to shipping within ninety days of the launch. The system is built for network access using either X25 or TCP/IP. Microsoft Internet Explorer was the main announcement, this is a browser based on NCSA and Spyglass Mosaic. The demo was quite impressive gracefully moving in and out of the Web browser cutting and pasting from and to Web pages.
SGML and the Web Panel
The remit was how to publish real commercial documents (already in SGML) on the Web. The problem was that HTML has to remain simple as that is its strength, yet a unique structured model is neither possible nor desirable for real information, you need the power of SGML's content-based or semantic mark-up.
Hitachi
Hitachi use HEADS (Hitachi Electronic Application Document System). This SGML DTD is defined and used by all the major VLSI vendors. They have 4000 components and 40,000 pages of documentation, use Omnimark to convert Style-sheeted RTF to SGML and have a filter which turns the SGML into HTML for viewing and also have a richer SGML browser that you can use with the Web shipping real SGML around.
Rover
They use the Grif SGML editor to capture product information and are working on translators down to HTML.
Credit Suisse
All their information is in SGML using their own DTD, browsing information via a filter to HTML.
Novell
The company policy is that all documentation is in DotBook, a DTD of SGML agreed by a Consortium. They have an SGML Viewer to access the information from the Web and make use of the Forms capability of HTML to capture information and also to retrieve information from the DotBook database.
VRML: 3D on the Web
The SGI presentation announced the Virtual Reality Markup Language (VRML) which allows you to ship 3D models around the Web. Readily available browsers are being provided for all major platforms including PCs. It is based on the Open Inventor format from SGI. Additions are HTML links. You can ship the model and then interact with it either with complete control or moving along defined paths (for those who do not have an SGI machine!). As you zoom into a scene it will download another version with greater detail. The size of a file is about the same as a single gif image for the model and about 5% of the equivalent QuickTime movie. Template are committed to supporting the viewer as well as SGI. You can put anchors on the model and clicking on these brings up the associated Web page. Input can be done via a set of CAD systems such as Wavefront, IGES, ProEngineer, Unigraphics, 3D Studio etc.
Overall, it was an excellent conference and I am looking forward to next year in Paris.
Bob Hopgood, Associate Director of Computing and Information Systems
What's new on the NISS Information Gateway
The following resources have been added to the database which forms the core of the NISS Information Gateway:
Artificial Intelligence Resources on the World Wide Web
A set of hypertext links to WWW pages related to Artificial Intelligence subjects; e.g. Knowledge Acquisition, Knowledge Engineering, Artificial Neural Networks, Case-Based Reasoning, Data Mining, Constraint Programming. This page also has links to general AI resources including on-line tutorials, journals, Professional Institution Special Interest Groups and University Research Groups throughout the world.
(http://www.ex.ac.uk/ESE/ai.html)
BIBSYS
BIBSYS is a shared library system for all Norwegian University libraries, the Norwegian National Library and a number of research libraries. The BIBSYS database includes 1.6 million bibliographic records (mostly monographs). BIBSYS may be searched in English or Norwegian, and via WWW (Forms interface), Gopher or Telnet, or through e-maiL from this page.
(http://www.bibsys.no/english.html)
British Medical Journal
This Web site contains links to selected highlights of the BMJ's current issue (full text of 4 articles in the latest shown at time of writing, but more planned) archives of previous issues (going back 3 months at time of writing), advice to authors, details of conferences and BMJ publications, and subscription information for the paper copy of the British Medical Journal.
(http://www.bmj.com/bmj/index.html)
Canada Centre for Mineral and Energy Technology Library
This is the library catalogue of the Canada Centre for Mineral and Energy Technology. The following databases are available for searching:
CPUB

Online catalogue of CANMET publications

CMET

Online catalogue of CANMET Library

CMNG

Index to technical literature in mining engineering

CMPR

Index to technical literature in process metallurgy

LRDE

Online catalogue of Varennes Regional Library. You can search in English or French. (telnet://opac@canlib.emr.ca)
Commercial Services Via the Internet
This Gopher Menu provides access to a number of commercial services via the Internet, including BRS, BioTechNet, Compuserve, Datapac, Datastar, Delphi, Dialog, Dow Jones News, EBSCONET, LEXIS/NEXIS, Legi-Slate, Med Help International, Newsnet via hermes, OCLe, Research Library Information Network, WLN (Western Libraries Network). You must arrange for an account with the provider before you can use the service. In most cases if you connect to the service, it will explain how to get an account and what kind of fees are involved. In some cases the connection is made through a SprintNet or Tymenet gateway and there may be an additional network surcharge. None of the services have any relationship with Software Tool & Die, who maintain the gopher node.
(gopher://gopher.std.com: 70/11/Commercial)
Engineering Case Library
A collection of information on engineering cases. These are accounts of real engineering projects that are written for use in engineering education. The accounts are not highly technical, and are quite readable by those with the appropriate interest. The Case Catalog has over 250 cases maintained by the Center for Case Studies in Engineering at the Rose-Hulman Institute of Technology. Cases are ordered chronologically but the catalog may be searched by subject classification or for all reports that are available electronically. Abstracts are available. The full cases must be ordered as paper copies (eg £3.50 for 15 pages). Reports of experience in using the cases in the classroom are also available. Cases date mainly from the 1960's to mid 1980's. Very few for the 1990's. The hypertext version was developed and is maintained by the Department of Civil and Environmental Engineering at Carleton University.
(http://www.civeng.carleton.ca/ECL/)
Engineering Information Guide
A resource guide to primary information sources in Engineering. Coverage is not comprehensive but its 14 areas include: Index/search sites, Several industry sectors: Aerospace, AEC, Electronics, Manufacturing. As well as subject areas: CAL, Computing, Concurrent Engineering, Product Modelling, Research in Design and Standardisation. The Research in Design topic is strongest with approximately 35 URLs of a total of about 132. Most pointers are accompanied by a short text description. The collection is not organised in a systematic way but similar sources are grouped under a common heading.
(http://www.cad.strath.ac.uk/EIG/EnglnfoGuide.html)
Hytelnet Information Page
HYTELNET is a global hypertext menu-driven browser utility which gives an IBM-PC user instant access to all teInd-accessible library catalogues, FREE-NETS, BBSs, Gophers, WAIS, etc. Unix, Windows, Macintosh, VMS, and WorldWideWeb- and Gopher-compatible versions are also available. This page contains links to information versions for all platforms, and the appropriate FTP sites from which they may be obtained. There are also links to the Hytelnet mailing list, shareware fee information and articles about Hytelnet.
(http://www.lights.com/hytelnet/)
Internet Computer Index
This resource aims to tell users everything that is known on the Internet about PCs, Macintoshes, and Unix systems. ICI is supported by commercial sponsors who add up-to-date information about their products to the ICI service. Information on each of the above named three categories of system is subdivided by the type of resource in which the reference is found - Gopher/WWW servers, mailing lists, Usenet News lists, anonymous ftp sites, FAQs (Frequently Asked Questions),lists o f commercial publications, and used machine price lists. A small number of information resources deals with the WorldWideWeb. All gopher menus on the resource are searchable by keyword. (http://ici.proper.com)
Leeds Metropolitan University Library Catalogue
The library's stock of monographs is 250,000. The OPAC indexes all circulating stock, and 80% of journals.
(telnet://library@library.lmu.ac.uk)
Leeds University Department of Music
This Web page is the most inclusive guide to Music resources on the Internet available in the UK, including pointers to every known resource. The entry point of the Home Page contains much local and computing-oriented information, followed by information on current events e.g. festivals. After that, music information on the Web is classified initially by artist, genre, instrument, period or area of origin; then into Departments and Institutions, Mailing lists, and music teaching software.
(http://www.leeds.ac.uk/music.html)
Library OPACs Strong in Engineering
This Gopher server links to all available library catalogues on the Internet which are strong in Engineering. Collections are categorized according to the following subdivisions: Basic Disciplines, Aerospace, Biological and Agricultural, Biomedical Environmental, Nuclear, Petroleum and Textiles. Based in the United States.
(gopher://vega.lib.ncsu.edu/ll/library/disciplines/engineering/opacs)
Links to space-related resources
Links to major space science-related resources on the WWW. The links include http. telnet, gopher and ftp links and are not restricted to local sites.
(http://crab.sp.ph.ic.ac.uk/html/space.html)
Philosophy at Liverpool University
This homepage, composed by staff and students at Liverpool University's Philosophy Department, contains many useful pointers to philosophy resources worldwide, subdivided by type (e.g. Usenet groups, Listserv groups, Moos, Archived Papers, Bibliographies) and other parameters. There is some evaluative comment to help the user, although the approach tends to be inclusive rather than selective. Links to archives of named great philosophers which have been identified so far (e.g. Hume, Nietzsche, Heidegger) are included.
(http://www.liv.ac.uk/-srlclark/philos.html)
Protist Image Data
Protist Image Data (PID) provides pictures and short descriptions of selected (13) protist genera, especially those genera whose species are frequently used as experimental organisms or are important in studies of organismal evolution. The intent is to provide up-to-date online information on the morphology, taxonomy and phylogenetic relationships of these organisms. The information has been organized in a text-page format. Clicking on highlighted text will access a text page, a glossary entry, a cross-reference within the database, or an online resource, depending on the context. Clicking on a picture icon will yield a labelled illustration that can be further manipulated with a graphics viewer. The information includes appearance, ultrastructure, life history, similar genera, classification, cultures, and selected references for each genus covered.
(http://megasun.bch.umontreal.ca/protists/protists.html)
University of California, San Diego, Bookstore
BiblioFile is a desktop link to the University of California, San Diego, bookshop. From it the user can browse the book database, find out about current events, consult best seller lists and order books online. UK users find the ordering and delivery mechanisms quick and easy.
(telnet://UCSDBKST.UCSD.EDU/)
University of London School of Pharmacy Library Catalogue
The library contains some 5500 items, of which the online catalouge indexes all monographs added or borrowed since 1991, plus some earlier material and all serials holdings.
(telnet://library@lib.pharm.lon.ac.uk/)
Virtual Reality Space
A collection of some 23 pointers to Virtual Reality sources around the world.
(gopher://ftp.cc.utexas.edu:3003/II/pub/output/vr)
All resources held in the database on the NISS Information Gateway can be located via the search option with, for example, the name of the resource as a search term.
A list of each week's additions to the NISS Information Gateway is also available - see the What's new link at the top of the Welcome area main page (http://www.niss.ac.uk/welcome/whatsnew.html). This information is replaced each week with new details.
Unless otherwise indicated, information and services mentioned above can be accessed via the NISS Information Gateway. The service can be accessed from WWW with the URL: http://www.niss.ac.uk/ A text-only version of the service can be accessed via a telnet niss.ac.uk command (or call niss from a PAD> prompt) - select option I for the new NISS Information Gateway.
NISS Advisor is distributed to the niss-news, lis-link, uctlig-newsletter and admin-news (all@mailbase. ac. uk) mailing lists. All editions of NISS Advisor can also be found at http://www.niss.ac.uk/niss/advisor/index.html
Annette Lalford, NISS